2020 Mixtape Three – Ambient

---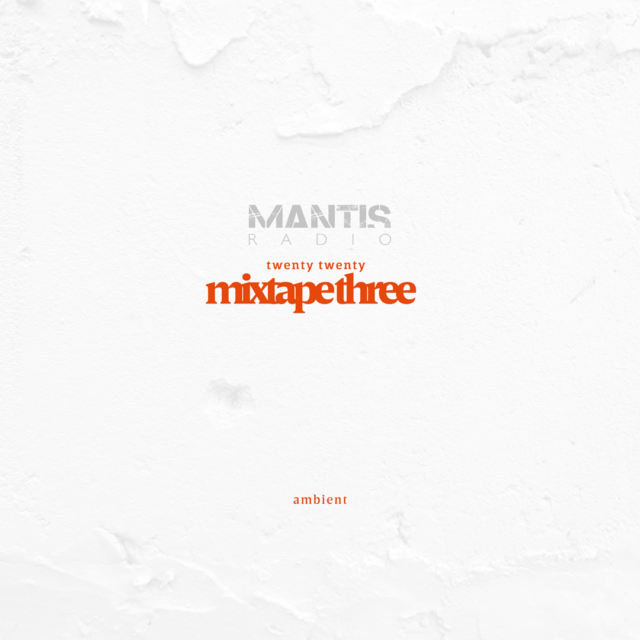 Your third and final mix in our series marking the year that was – 2020. This mix, like the previous two, collects some of our favourite pieces from last year.
Mixtape One – Downtempo
Mixtape Two – Metal
Deep ambient, drone, downtempo and warm electronics greet you for most of this one. Along the way there's some dubby beats and shadow sound, but nothing too dark or hard. Both parts of the Mantis Radio 2020 End of Year special are now available too.
End of Year Special part 1
End of Year Special part 2
Mantis Radio will return to its usual transmission style next time, show 324, playing new music and forgotten gems, alongside an exclusive guest mix from sclist.
What were your favourites from last year?
Let us know on Patreon or via Twitter and Instagram.
–
K-Lone – Honey (Facta Version) [Wisdom Teeth]
Hyperactive Leslie – Slow [Crowdspacer]
Ao Inoue – Version 96 [Mole Audio]
Jo Johnson & Hilary Robinson – Maze Echoes [self released]
Voidloss – Bose Einstein Condensate [Singularity Recordings]
Zaliva-D – Down Samsara [WV Sorcerer Productions]
anodyne – Everybody Dies [Acroplane Recordings]
John Monkman – Vox [Beesemyer Music]
Prequel Tapes – Metaplay [self released]
John Monkman – Sine [Beesemyer Music]
patten – Axial Tilt [555-5555]
patten – Soft Power [555-5555]
Minor Science – Spoken and Unspoken [Whities]
Earth to Mickey – Pleasure Comes And Pleasure Goes [L.A. Club Resource]
Eusebeia – Revival [Cymbalize]
LAIR – Towards Light [self released]
Agon Branza – Glitter Guns [self released]
Ezuri – Omnia [Darkfloor Sound]
Max Cooper – Reflect [Mesh]
Strega Beata – Prayers of Consequence [self released]
Ana De Llor – Penelope [self released]
Anneka – The Elevator Scene [Anti-Ghost Moon Ray]
Jan Swinburne – Time Depths [Alrealon Musique]
Sully – Memories [Astrophonica]
Deftones – Knife Prty (Purity Ring remix) [Reprise Records]
bleed Air – Nomos [Superpolar Taïps]
Si Begg – Computer Vomit (Militant Funk remix) [Noodles Recordings]
Yellow Belly – Fall Apart In Love (Plike remix) [self released]
Purl – Emissary [Dewtone Recordings]
The Inventors of Aircraft – Happy Birthday [whitelabelrecs]
Khost – Yellow Light [Cold Spring]
Andrew Weatherall – Unknown Plunderer [ByrdOut]
Lapis – Possy [Loose Lips]
Hodge – Lanacut [Houndstooth]
Actress – Reverend [Ninja Tune]
Actress – XRAY [Ninja Tune]
Brodinski x Low Jack – Andaman Sea [Les Disques De La Bretagne]
MssingNo – Guiders [self released]
AAIMON – Scarecrow [self released]
Alex Banks – Uber Dem Vulcan Wolken [Mesh]
Reso – Rad Racer [self released]
Related Content
Latest