Sandwell District Radio Mix #2
Oh my days. Regis aka Karl O'Conner is a very talented musician and his current Sandwell District project continues to reaffirm this. This mix recently hit the SD tumblr site; where next? Goes without saying this kind of mix is straight to the front of queue.
Whilst the Sandwell District project is a collective of like minded musicians (Silent Servant, Female, and Function aka Dave Sumner) it's highly likely that Regis was behind this mix, but I guess we'll never really know. It would seem now that the mix has finally downloaded that this selection of sound is from Silent Servant.
I advise you NOT to sleep on this mix, simply entitled Radio Mix #2.
Sandwell District Radio Mix #2
Download
_
Robert Rental – Double Heart
Section 25 – Be Brave
DAF – Have You Decided What to Wear Tonight
Liaisons Dangereuses – Etre Assis Ou Danger
Led-er-est – Scissors
Spider and the Flies – Tesla Beat
Fad Gadget – Collapsing New People
Public Information Film – No Go (German Version)
The Cramps – Mystery Plane
DVA Damas – Brand New Head
Animals + Men – We Are Machines
Cabaret Voltaire – No Escape (Saxon)
The 39 Clocks – Psycho Beat
The Chocolate Watch Band – Sweet Young Thing
The Fall – Fit and Working Again
Joe Meek – Orbit Around the Moon
Doctor Fix – No Fun
Suicide – Girl
Throbbing Gristle – Distant Dreams (part two)
The Normal – T.V.O.D.
Tuxedo Moon – No Tears
The Gun Club – Sex Beat
Woven Bones – With You Alone
Diversion Group – A Man has Responsibilities
Robert Rental – AAC
The Velvet Underground – Sunday Morning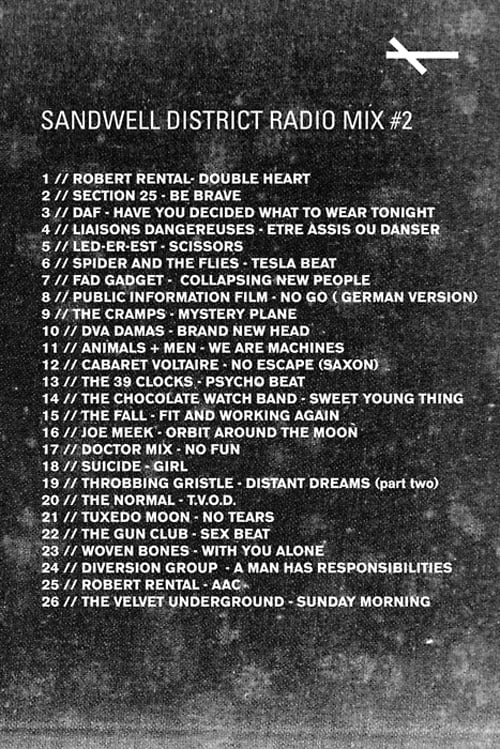 Related