Dimentia – A Dream Manifested on Form & Structure
I figured we'd already written a piece on California's Dimentia and one of his most recent releases for Void Tactical Media sublabel Form & Structure. Turns out we hadn't, so here it is.
Quite frankly, this is brutal and essential.
Released back in April on the aforementioned some time vinyl, full time digital imprint Void Tactical Media; A Dream Manifested is two cuts of fierce on fire industrial bass weight heavy pressure electro.
Our some time reviewer Blackmass Plastics got all into it:
absolutely tearing no compromise hardcore electronics from Dimentia on the consistently excellent Void Tactical Media.
Yup. Exactly.
La Voison starts with a dark evil wave of sub bass building into a robotic nightmare of broken punches and malfunctions. An acid line bubbles underneath. And it just keeps building. Layer upon layer of heavy like lead electronics thunder, testing both sound system and dance floor.
Darker and deeper goes track two; Nightside. A bleak dystopian trip like the best electro often is. Hard beats pounding on top before opening into stabs of lazer and squelch. A dark ride, made all that darker by that wide synth washing over and through everything. Frantic stuff.
Dimentia should be becoming a familiar name to those of you who have been reading the site in the past few weeks/months.
His stunning session for Mantis Radio 109 back in late June proving to be just the beginning as next month on September 7th we present Dimentia (along with label boss of Void Tactical Media: Split Horizon) at our intimate (and free) Darkfloor Live event in London's SE1 postcode.
Both Dimentia and Split Horizon will be dropping raw uncompromising 100% hardware electro and broken bass sessions for us. The Customs officials are going to love them trying to get all that gear through passport control.
More details on our event can be grabbed here, or here; whilst you can hit Facebook more information on their European tour including dates and cities.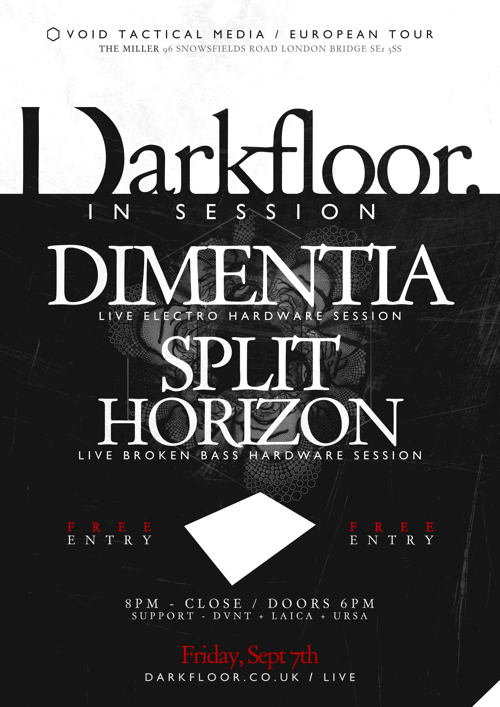 Related