Mantis Radio 198 + Partisan

---
In session we welcome the maximal, HD grime of Partisan. We've new material from Colossloth for Cold Spring, Fracture, Darkfloor Sound's latest by A Vengeance, Thomas Ragsdale, Drax on Perc Trax, peak period Aaron Spectre, muscular dubtech from Akkord, classic Aphex and brand new jungle rinse from dgoHn for Love Love Records.
DVNT
Colossloth – Your Flag Stands For Nothing [Cold Spring]
Aphex Twin – Polynomial-C [R&S Records]
TORPOR – As Waves Crash [Head of Crom Records]
A Vengeance – CAIRO [Darkfloor Sound]
Fracture & Deft – I Just [Exit Records]
Agressor Bunx – Rhodium [Eatbrain]
dgoHn – Untiltled Pigdog [Love Love Records]
Aaron Spectre – 1600 Penn, FTW [Omeko]
Thomas Ragsdale – Flower Of Yorkshire [This Is It Forever]
Thomas Ragsdale – Sunset [This Is It Forever]
Rhythmic Theory – Future Tense (October's Death Is Certain Dub) [Idle Hands]
Drax – Low Machine [Perc Trax]
Tekseven – Exterminate [Be Sure Label]
Roman Zawodny and Slantooth – Remnants [Bass Agenda]
Akkord – 3dOS [Houndstooth]
Hoodvision – Avidity [PROCSS]
Grizzla – Bodyhammer [Unstable Label]
Ancestral Voices – Medicina [Samurai Horo]
PARTISAN
Sntnl – Grace Omega [dub]
WWWINGS – DELIRIUM [TAR]
Omaar – Faabric [Osiris DCLXVI]
Morten HD – Import Export Business (Alex Compton vs Etevleh remix) [dub]
Glot – Ehrgeiz [dub]
SHALT – Unconfined [The Astral Plane]
Dinamarca x Toxe – Hexa [dub]
Magic Fades – Wet Ware [dub]
City & Bru – I Want You To Hurt Me [Classical Trax]
Partisan x Knifesex – Dogsout [dub]
GRRL x Whipped Cream – Escalate [dub]
Snowy Beats – Speedin [Total Trax]
Partisan – Bitch Betta (Version) [unreleased]
Angel-Ho – [Non Records]
Partisan – Aeternal (Exclusive Snippet) [unreleased]
IN SESSION
Partisan started at the back-end of 2014 as a project wholly inspired by the latest wave of instrumental grime, hardcore kicks and "power ambient" music (think Ben Frost and TCF).
In exploring the spaces between these ideas, I've managed to churn out 4 EPs and numerous singles in Year 1. As I begin the new year, again in a germinal state, quite literally revisiting the drawing board for the project, I'm re-calibrating influences, re-adjusting goals and expectations in line with the new ground broke by others in the year prior. My session mix for Mantis Radio will be a showcase of these adjustments: the things I've fallen in love with, the things that have added to the discourse of experimental club music, the things that have opened my eyes to new avenues. Investigate, experiment, re-assess goals, and go once more into the deep, dark night of human creativity.
This Friday January 22nd, catch Partisan's live debut at Glasgow's NITRIC 9: BASSKICK OBLIVION alongside Dave Shades, Moodybinz and Heath Swedger.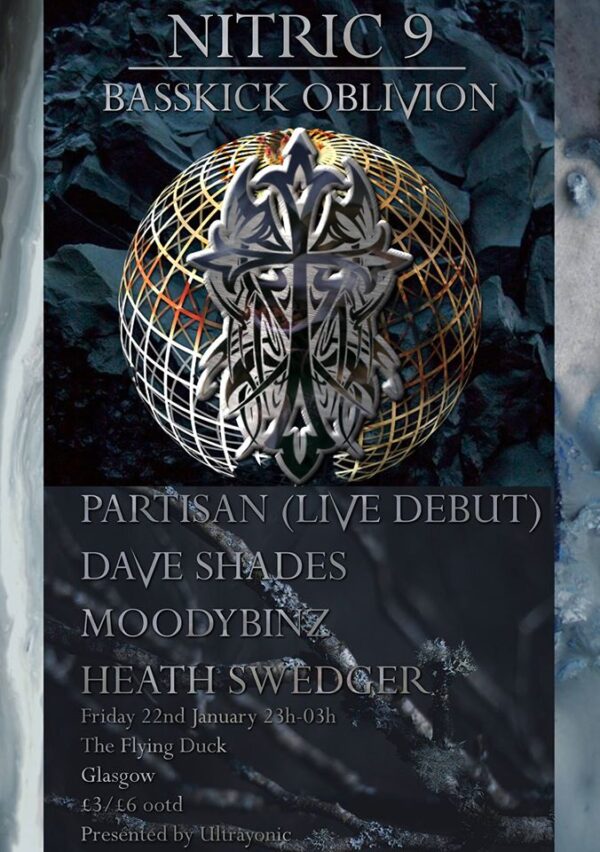 –
Missed a show? Catch up with the extensive archives.
Related Content
Latest