Darkfloor 71 – Cutups – Darkside Electronics
Based in Pittsburgh, Geoff 'Cutups' Maddock has been carving up sounds since the mid 90s. His name and styles comes out of an appreciation of the cut-ups technique of creation employed by the Dadaists, Brion Gysin and William S. Burroughs.
It's as he says "how it meshes into the wild, collage nature of sample-everything culture, both in music, the net and life in the late 20th century."
Maddock's mix for our In Session series is a darkside ride through outsider electronics and experimental sound. Electro meets glitch bass and precision drum percussion.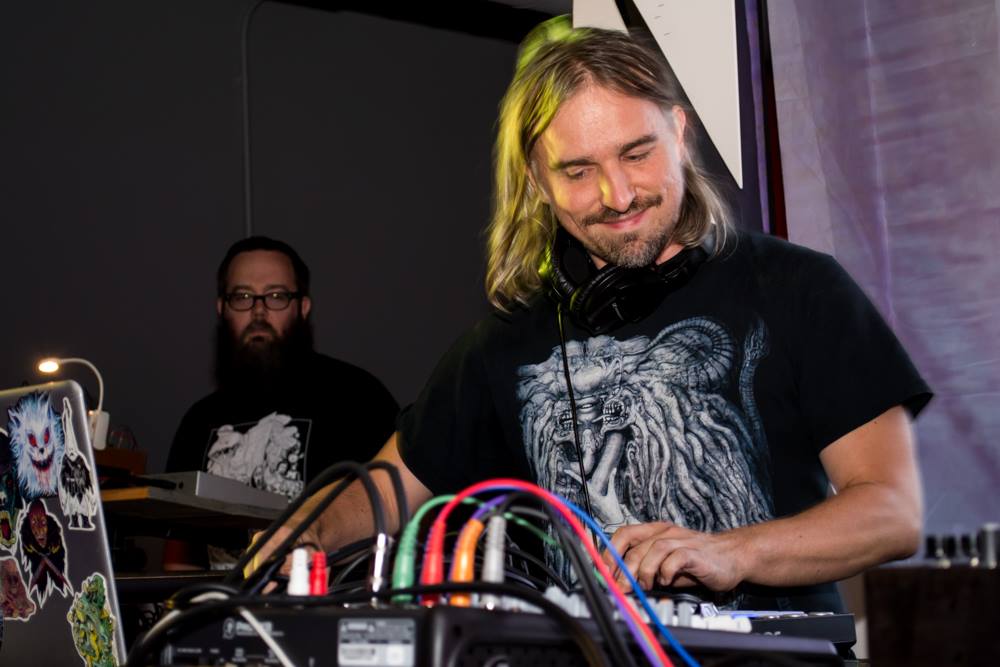 _
These Hidden Hands – Shackles feat. Zanias [Hidden Hundred]
ANFS – Plokamia [Liber Null Berlin]
Dead Fader – 2 Ton Man [3by3]
Bombardier – Demon (Hard Acid remix) [Spirit Of Progress]
Blush Response – Flow My Tears [Megastructure_]
Errorbeauty and Serge Geyzel – Shoot the Mirror in The Leg [Outlaw 303]
Ekors – Rotting Woods [Leyla Records]
Retina – To Watch Yourself Sleep [FringeWorthy]
Sectra – Scalped [Gourmet Beats]
Corin – Hidden In Plain Sight [UIQ]
Fragedis – Flantza [Pi Electronics]
Exploited Body – She Blames the River [Northern Electronics]
Anti Shift – Intangible Spectrum [TAR]
Slacker – Sacrifice of the Self [Cyberdrome]
Zadig – Circular Causality [Sotor Records]
Electromeca – Space Program [Acroplane Recordings]
Serge Geyzel – Quentin Physics [Outlaw 303]
Daed – H2FSbF6 (Dwaallicht remix) [Analogical Force]
DJ YumYum – Antigene [Defrostatica Records]
Rian Treanor – Obstacle 4 [Planet Mu]
Zuli – Keen Demag [UIQ]
Silver Waves – VI [Portals Editions]
Abelcain – Nameless Grave [Low Res Records]
Damcase – Inkl Rules (Container remix) [Pi Electronics]
La Penderie Noire – Crash of Dimensions [self released]
Pixelord – NFT Acid [Hyperboloid]
RTR – Reward (Om Unit remix) [Analogical Force]
Maltin Worf – Thirsty [Defrostatica Records]
Cocktail Party Effect – Math [thousandkissesplace]
Djrum – Hard to Sa [R & S Records]
Last Life – Trial [Samurai Music]
Diasiva – Orcus [Arboretum]
Onryo – ?? (Wild Hunt) [Ohm Resistance]
Baseck – Beatz4freakz [Murder Channel Records]
Somatic Responses – MG-99 [Anodyne]
Dfaniks – Igulari [Errorgrid]
Taet – Silver Lines [Errorgrid]
Kindohm – Blue Code [Nada]
Trngs – Organic Fabrication Core [Infinite Machine]
Zeuge – Contamination [Peace Off]
Xanopticon – Chanja [Murder Channel Records]
Aaron Spectre – Create the Future [Morning Under Leaves]
Bewwip – Waking Up On 76 [Analogical Force]
Tusk Mite – Motion Alchemy [Suck Puck Recordz]
Related