Darkfloor 4.0
A few weeks back now we launched Darkfloor 4.0.
What is that you ask. Simply, a major update to the look of this site.
If you've been reading posts on our site, rather than via our feed, then you'll have already noticed the changes.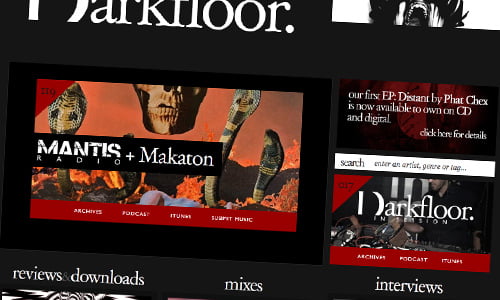 The big ones were a complete redesign and build of the front page, and the Mantis Radio and Darkfloor in Session podcast archive pages. The article pages were also updated with, we hope a better and smoother reading experience. Striving for a cleaner and non-intrusive approach to the presentation.
When you visit us and come to our home page you'll now be presented with a subject arranged and filtered platform to the content we write about and publish here at Darkfloor. Underneath the most recent Mantis Radio archive (at the moment from the mighty Makaton) are 3 columns splitting the bulk of content into 3 sections: reviews&downloads, mixes and interviews / news.
This way we can present more content without overwhelming you or having less frequently published content, such as our interviews, getting lost in the more regularly posted releases and mixes that are added.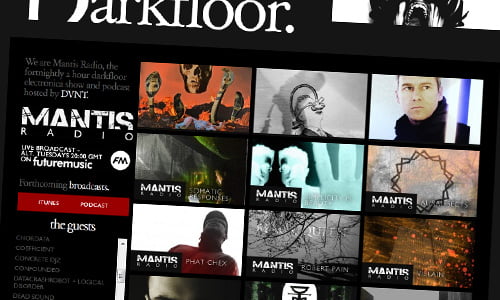 The other big change is the complete rebuild of the archive pages for Mantis Radio and the Darkfloor in Session mix series. Built as a visual grid with a scroll (by artist featured) on the left; it again is presenting a lot of content in an easier to use and more visually pleasing system. This replaces the sequential list we had previously. It served the purpose sure, but there was room for improvement.
There are lots of other smaller changes that we've done, some you'll notice (like the specific sidebar areas that show on Mantis archive posts) and some you won't, like back-end database cleaning and use of custom fields.
We welcome any comments or suggestions as to further ways we can improve the experience of Darkfloor, so get in touch by leaving your thoughts over on the forum hive.
Oh yea, why 4.0? Well since the site launched (which was originally green) the site has morphed and evolved many many times, we're constantly doing little tweaks here and there, but with such a major and noticeable change we thought it would be good to pick a specific integer, so 4.0 is it.
Here's an early Mantis Radio version (after the switch from green to red) from November 2009.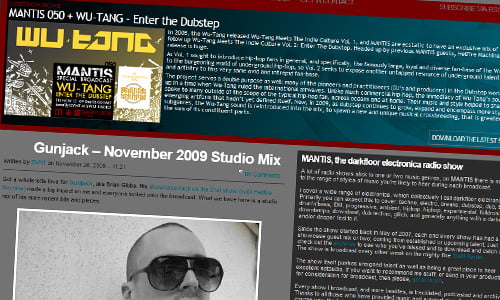 For those who are interested in these sorts of things:
Darkfloor is powered by WordPress; hosted by Surpass Hosting; and is designed, built and maintained by makemassair.
Our published content (unless otherwise indicated) is licensed under Creative Commons (CC BY-NC-ND 3.0).
The forum hive is powered by mybb.
'4' photo by Leo Reynolds.
Related