AJA's HEX BITCH tour hits London 19.09
On September 19th AJA plays London's New River Studios as part of her HEX BITCH European tour. Providing DJ support – DVNT.
Using unsettling noise, distressed screams, hand-made electronics and found objects pushed through pedals, Aja Ireland's industrial beats and distorted rythmic drones are paired with spell-binding physical theatrics with a dash of phychosexual noise.
The eagle eared amongst you will have heard material from her on Mantis Radio before, but in case you haven't we've included some videos, because just listening isn't quite enough, she's the kind of musician you need to witness perform.
Joining her on tour – Grinder Teeth – another equally visceral performer of sound.
A multi-media artist and musician living in Berlin. Her interdisciplinary live performance & sound art works explore themes of gender and sexuality as they relate to current day feminism and cultural ideology. Trippy, reverb soaked, layered soundscapes with noisy trip hop-beats.
AJA vs GRINDER TEETH
DVNT

New River Studios
199 Eade Rd, London. N4 1DN
19.09.2016 | £6
Tour dates include Vienna at fluc (15.09), Berlin at Bei Ruth (18.09), London at New River Studios (19.09), Liverpool (TBC), Nottingham at Lofthouse (24.09) and Manchester at Texture (25.09) with more dates planned.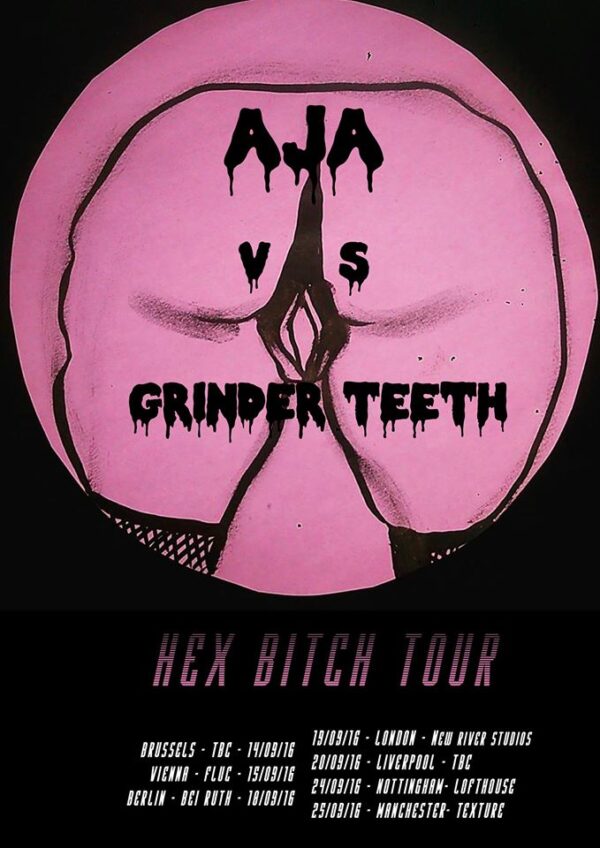 Related