the 666 – Stormfield
Following in the footsteps of C Mantle and Dead Sound, this week the 666 sits down with Combat Recordings boss Stormfield.
A long time bass merchant of London's underground music scene as a record label, DJ and sometime producer the sounds Stormfield unleashes, releases and makes is pinpoint sharp electro infested mutant strains of heavy.
His recent EP release, Collapsing Systems joins the small but deadly collection of sound he has released unto the scene. It comes backed with three fantastic remixes from Irish electro don DeFeKt, Errorbeauty and Scotland's massively underrated and exceptional Nomina. The EP launches this Saturday (April 6th) at London's intimate Ginglink.
On the horizon is the long awaited self titled Fausten album, forthcoming on Germany's mighty Ad Noiseam; backed with remixes from Darkfloor Sound's own Ontal, together with oyaarss and Dadub.
A collaboration project between Stormfield and Monster X; Fausten is all set to be a delightfully horrible and harsh lesson in electronics and follows last years taster remix of Irish electro synth mechanic Anodyne's track Empire of Light.
So, this week I asked Stormfield on his taste in dark electronics albums (naturally), six of the most influential pieces of music he's heard and six of his favourite spaces to experience sound.
Question 1
As a lover and pusher of the darker strains of electronics – let's have six of your faves. What are six of your must listen/own dark electronics albums?
Scorn – List of Takers
This CD is actually a live set, built from something Mick did for my show on Breaks FM back during the Fuel Recs days, a solid 70 minutes(ish) of suffocating, crushing Scorn beats and bass and sickly atmospheres.
His albums on Hymen and Ohm Resistance are top notch as well, but List of Takers shows how he can seamlessly build his sound from subtle atmospheres up into something colossal, insane and unstoppable.
The Future Sound of London – Dead Cities / Life Forms
Hard to pick one of the two, really. There's bands that make tracks, then there's the rare bands that manage to create a whole unique environment of their own; in which sounds spontaneously happen and seems like the most natural thing ever. FSOL achieve this. As do Autechre and Scorn.
FSOL do their own visuals, but the music itself is immersive and cinematic enough already; imagery like destroyed cities, alien swamps and empty industrial spaces but presented in an intimate headspace.
Speedy J – A Shocking Hobby
He's gotten a lot more straight-up techno in the later years but some of his best / most interesting works come from his early stuff, such as this album and Public Energy.
I didn't really understand it when it first got released, as it eschews a lot of the melodic work people knew him for up until that point. But listening back, it's a brilliant album.
Milanese – Extend
It was hard to choose between this or his first album 1Up, but Extend beats it by a little bit because while it keeps the rage and subtlety of the previous album, the production levels on Extend go totally off the scale.
He is hands-down one of the best producers I've had the privilege of listening to. Technically advanced but not in a weak, noodly way – his music is fierce and physical.
Bola – Fyuti
His Soup album influenced me more but as you asked for "dark", I picked Fyuti instead.
The lush Bola strings and melodies are present as usual, but take you into a headspace that's a lot deeper and more introverted than his previous works. He went a bit quiet in terms of releases, although there's been a buzz recently about something possibly appearing this year.
Gridlock – Formless
Epic, violent and beautiful. Gridlock was one of those bands that combined two different specialties, the visceral, melancholic nuances of Mike Caddoo (Dryft/Bitcrush) and the razor sharp percussive programming of Mike Wells.
There are several sublime moments in Formless where the music gets impossibly more beautiful and ultraviolent. At the same time.
They've stopped making tracks together now which is a massive loss to music. This is probably closest to what I wish i could make. Is it dark? Not if you play it next to Scorn, but it certainly is brooding, mournful and majestic.
Question 2.
You've long been a part of London's underground with your Combat Recordings label and DJing, along the way giving up some amazing filth. In getting to where you are now, what six tracks/pieces of music have played a part in that? Six tracks that have influenced you and make you Stormfield.
Bomb the Bass – Beat Dis
The track that started the headlong dive into electronic music. I was 14 and heavily into skateboarding at the time. This track suited that much more even than the skate bands at the time. Must have played this track hundreds of times.
Cane – Dove
Cane is a production pseudonym for Funckarma, when they want to do their banging, acidy 140-150bpm dancefloor stuff. Fragile and Dove are my favourites from their EPs on Colony Productions, although Dove wins it for me because of the insane drum programming.
They managed to create a powerful, banging track but where the drums shift all over the place, the kicks/snares give the feeling of being right inside a shoal of fish, you can see them swarming around you en masse but it's impossible to follow any specific one because they all move around in different combinations and very very rapidly.
Gridlock – The Return
Track 4 off the Formless album on Hymen. Violent and impossibly lush at the same time, is all I can say.
ScanOne – Kik It
I remember being blown away hearing this for the first time round ScanOne's old warehouse in Stoke Newington.
He'd been buying grime records and had combined their measured, succinct stop-start beat patterns with his own electro sounds and those cinematic strings that he's really good at making. It was this track and Every 7th Bullet which made me decide to start the Combat label.
Milanese – Iacon
The master producer's own take on dark drum'n'bass.
He takes that familiar straight-up kick-snare pattern and slyly shifts the snare as it progresses along the timeline, so it doubles back upon itself and makes you wonder what the fuck is going on. A simple idea but executed very well.
The sound design is powerful and intricate.
Source Direct – Black Rose
One from the early drum'n'bass days.
Bleak atmospheres, mad drum programming and the use of incidental voice samples which on their own don't really mean anything, but sound really disturbing when placed in the context of the track.
These guys were like the fiercer, more hardcore answer to early Photek.
Question 3.
As a DJ who has played at many of London's underground venues and around Europe – what are six of your favourite places to play in or listen at?
Tough one, I don't have many regular favourites to be honest, and some of the best parties are one-offs. But some are:
The Cross Club, Prague
It started in the basement of an abandoned block of flats in Prague. Lorenzo the owner is a metal sculptor, he kept building and adding to the structure insider and the courtyard.
Every time I visit, he's added some more more. The metalwork is incredible, like a scene out of Alien, it looks graceful and delicate but it's all solid metal.
It's my favourite place to play because of the way it's designed, and the vibe of the people. One Czech raver is worth 20 english ravers, they really go for it there. It's also one of those places where they will get into it immediately if it sounds good, they don't need to be spoonfed any hype beforehand like elsewhere.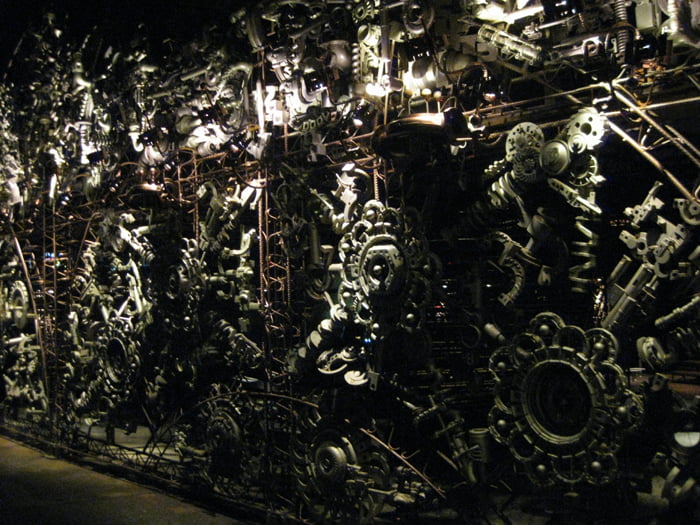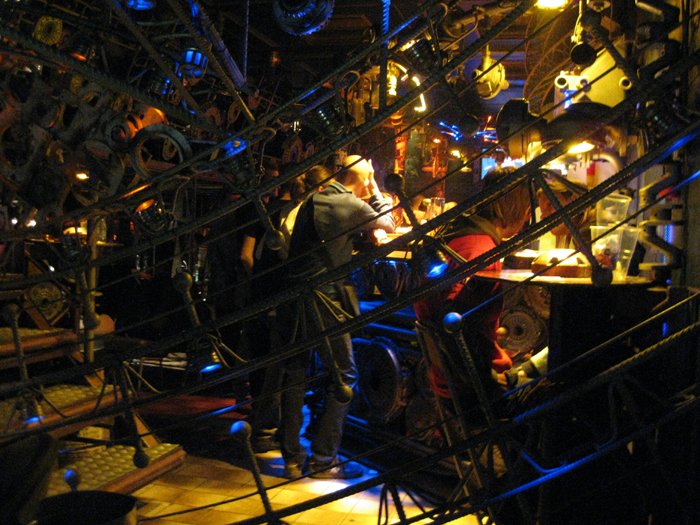 Subland, Berlin
Subland is a venue run by Dean Rodell (Machine Code), Sarah and Species. There is an annual autumn festival called Burn the Machine every first weekend of November.
This year's festival will feature Fausten, Monster X and myself among many others. It's built in the basement of what used to be a nazi power station, some of the walls are 4 meters thick. It's centred around bass music, thus they have an incredible soundsystem in there.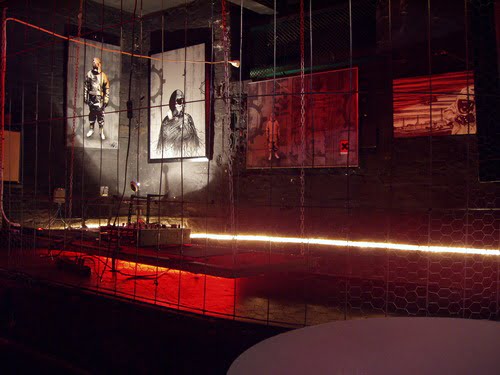 Corsica Studios
It's my favourite London venue, although not for any particular night, I've just been there for so many events over the years at this club. Sabina and Letty used to run the early dubstep nights (after the Redstar) there before the genre kicked off.
Bracket used to do some amazing jungle/hardcore sets there when he was still with us. And the Combat night when Scorn played in a pitch black room, on Funktion One sound. Adrian and Amanda who run the place are great people to work with.
Mimer building, Norberg Festival, Sweden
Norberg is an electronic music festival a few hours out of Stockholm, Sweden.
It's in an old mining town surrounded by forests, and right in the middle of it all is this gigantic mining building called the Mimer.
The facility is no longer used for quarrying metal, thus it's been gutted and used as a festival venue for ambient/soundscapey live sets instead.
It's a mental place, the inside looks like a scene out of Quake or something. Iron staircases and grill platforms where you can see past your feet down about 6 floors below into the blackness. The reverb in there is amazing and runs for at least 7 seconds (?).
Being vikings, they sorted the technical stuff to perfection. I was told the the sound guy is a mathematician, he read the temperature of the space and how it affects the density of air, sound travel and thus calibrated the system accordingly. All around the inside of the building are placed tiny Funktion One speakers.
And there is a massive sub right in the floor which appears just as a huge pit with a metal grille over it. I'd love for Lull (Scorn's soundscape project) or Fausten to play there, we even did a clip of audio as a tribute to the space:
At home :)
See I've run out of venues already. Good speakers, nice vodka, no cunts and no need to queue for the toilet!
Reclaim the Beach, London
those who know, know. I'll leave it at that ;)
You can catch Stormfield this Saturday at London's Ginglink where they're throwing a launch party for his Collapsing Systems EP.
On the night alongside the might of Stormfield you can catch Errorbeauty, ADJ, Steve Faulkner and N-Ter Live.
Related