Opine Kosinsky's October Purchasing (part 2)
The unknown, anonymous producer and some time Acre Recordings contributor Opine Kosinsky got in touch recently reeling off about his recent musical acquisitions. Here's part two of what he wrote us (part one).

Esoteric – Subconscious Dissolution into the Continuum
[Season of Mist] 2004
When that first Cathedral album came out in 1991 I fell in love with it immediately. Wrapped in unarguably the best gate-fold sleeve of all time came six tracks of funereal doom metal, quickly becoming the soundtrack to Mervin Peake-obsessed mid-teens.
More recently I've been getting back into doom metal and such sub-genres as drone doom and funeral doom. What drew me to Esoteric's first album was its sonic similarity to that classic Cathedral effort. However, that's still in the post, winging its way from the Ukraine so, to keep myself going, I bought a more locally available Subconscious Dissolution into the Continuum.
Funeral doom, a genre? Comedy names aside, forget the stoner/sludge groovy and psychedelic doom of Electric Wizard and the outright funkier later Cathedral releases – this is of the so-slow-the-drummer-must-have forgotten-he's-playing variety, with deep growling death metal-style cookie monster action. It's dirge-like and, funnily enough, funereal and sounds a bit like the much overlooked classic doom/death album Transcendence into the Peripheral (1993) from Australia's disarmingly titled Disembowelment.
However, where that album was a masterpiece and exceptionally well played, this is not. Some rather unforgivable cheesiness seems to have crept into this Brummie band's style since they started up, with some synths (generally a no-no in metal) and finger-picked guitars. Also, the production has been cleaned up which definitely doesn't suit this genre. As a result, the somewhat basic and uneven drumming becomes all the more apparent and the guitars lose a lot of the resonant distorted qualities that Sunn O))) use to such great effect. On the good side, such long tracks allow you to lose yourself in them and this album, with some medicinal help, is not without its virtues.
But, if you fancy a proper wallow, check out their first official release or Cathedral's first slab, Forest of Equilibrium.
Ambulance – Antiques Roadshow / Snakes
[Planet Mu] 2002
As quite a fan of Dunk Murphy aka Sunken Foal I was stoked to find this 7" in the seven inch bin at a second hand record shop. Predating the Sunken Foal work this alias is a collaboration between Murphy and Trevor O'Reilly and released on patchy label Planet Poo long before they decided 'Footwork' was THE NEXT BIG THING.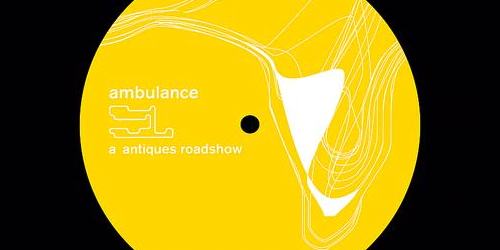 Ugh. Anyway, this clearly feels like the work of Murphy, mixing as it does overt musicality, acoustic instrumentation and well-programmed electronic beats.
The A side starts with a lovely upright bass (shades of Red Snapper?), segueing into idm-esque plip-plop beats and analogue synth action. This description may make it sound rather banal but it isn't, especially with the odd semi-reversed vocals in evidence and the chord progressions they use.
The other side is also a real beezer, again with backwardness and oddball vocals, but with more DSP-style action masking quite intricate guitar playing. In fact, the vocals are quite creepy on this number and it reminds me just a little of early A.R.Cane. I listen to stuff like this, now 10 years old – well-produced, dynamic and interesting – and wonder why now we have the likes of Chris Clark and a general lack of high-quality electronica.
Seriously, if you can't find this or, indeed, even if you can, go and check out Sunken Foal's album and 12" on the aforementioned Planet-Mu.
Perc – A New Brutality
[Perc Trax] 2012
Looking slightly like a baddie from The Bill, Alistair Wells is quite a busy lad, DJing prolifically and with an impressive array of 12s to his name. He's already had 3 records out this year, of which this is the second.
Let me just get this out of the way right away: this record is over-compressed and lacks dynamic range, sapping some of the energy and aggression away. OK, that done, it opens with a tasty little techno belter featuring a 1/4/7/10/13 bass drum pattern which drives this noisy track along at a lively pace. It also features some high hats and some filtered noise. It's unambitious but absolutely fine for a dancefloor – as I can testify, having danced to it recently.
The next track Cash 4 Gold, is a cockeyed little electro-ish number that brings to mind the long defunct Penalty electro label. Prepossessing, this ambles along with eerie saturated synths, some scratchy noises and a beat that I suspect will make beat-matching quite difficult. Nice.
The flip-side sees us career onto the ropes a little, with a crap techno track that sounds like Dave Tarrida (but even less good). Come on, it's 2012, you've been doing this for a while and it's getting beyond the 'look mom I made a music' style of thing. The breakdown is quite pleasantly noisy but that's about all that's good here.
Finally, we have a piano-laden 'atmospheric' track: Before I Go. While quite pleasant – and with an almost cinematic quality to it – it's an odd inclusion on an otherwise dance floor orientated release. Generally speaking, techno ambient tracks are still of some use in a club but I struggle to see this being played out. It would fit better in some mournful and vaguely arty French film, where Pierre looks out of a window and sighs. Or something.
Venetian Snares – Winnipeg is a Frozen Shithole EP Vol 2
[Bang A Rang/Peace Off] 2005
It seems spurious writing about Venetian Snares as we all know what to expect: it's either going to be breakcore/gabber or slower breakcore (ie Last Step). And pretty much everything is in 7/8 time.
To anyone with a passing knowledge of VS: Winnipeg is a Frozen Shithole is the (in)famous gabber album, from which this record is the second of two 12s. It's been a while since I last heard this stuff and, having recently acquired the record, I was impressed that the sound quality and production were as I remember rather than suffering from the effects of rose-tinted ears. All too often older stuff, despite the fond memories, shows its age against more recent releases. My preferred track is the b-side – less break and more core – and who could resist such a delightful gabber work-out that ends with a sample from Canada's embarrassing 90s band the Crash Test Dummies.
Well, my downstairs neighbours perhaps. They've stopped talking to me. More grist to yer mill, Mr Funk, and keep my ADHD fed, eh?
'Do you run around in jockstraps all the time, David, huh?'
Dro Carey – Leary Blips
[The Trilogy Tapes] 2012
Oh dear. It's been a while since I went record shopping when drunk. I had another shot at it a few weeks ago and came back with, amongst others, this cautionary vinyl: Leary Blips by Australia's Dro Carey.
While not my finest purchase in its favour it is quite odd, a quality I like in what I listen to. There are some pleasingly stuttering beats, bizarre vocal snippets, odd little noises and rich analogue-sounding synths kicking about the six tracks on this disc.
I also rather like the cover. However, such minor charms are outweighed by the fact that this record doesn't really gel and is just, well, a bit annoying.
Pitched-up vocal samples, too much ring mod, irritating ascending synths and crude melodies all make this record a bit hard to love. I feel the artist is going for a surreal vibe while referencing various genres of modern electronic music but it doesn't really work. Surrealism in music has been done so much better.
The best track for me is Sadetta although it's fairly unremarkable and pretty short. The title track has a rather annoying synth hook that reminds me of a valium-choked and equally irritating Freak by LFO. It's unfortunately also reprised on the B side.
Related