Mr Minimax – The Goodnight Mistress Vol.1
A sublime mix from Mr Minimax here, featuring music from Valgeir Sigurdsson, Brothomstates, Chris Clark, Boards of Canada, Aphex Twin, Apparat, Supergrass, Tycho, Richard Devine and a few from Mr Minimax himself.
A mellow mix of ambient, downtempo and experimental music, electronic and organic.
Aids restful sleep and makes a perfect accompaniment for sitting back and watching the walls breath a little.
Mr Minimax – The Goodnight Mistress Vol.1
DOWNLOAD
–
Ab Ovo – Hemisphere
Mr Minimax – Atx209
Valgeir Sigurdsson – Before Nine
Fhicken Feed – Junior
Reverbaphon – A Matter of Life or Death
Mr Minimax – Syrely
Chris Clark – Empty The Bones Of You
Brothomstates – MDRMX
Michael Trommer – Champ de Mars
Jon Hopkins – Nightjar
The Black Dog – The Train by the Autobahn
Panagaea – You & I
Falls & Regis – A Letter to a Friend
Boards of Canada – Kaini Industries
Aphex Twin – Weathered Stone
Apparat – Wooden
edIT – Mildew
Olo Worms – Guess Who Garden (Mr Minimax remix)
Supergrass – Fin
Jackson and his Computer Band – Mini Doux
Boards of Canada – Oscar See Through Eye
K.A.L. – The Whiskey Fist (Skywave Systems remix)
Halogen – Previous Future
Tycho – The Disconnect
2562 – Redux
Richard Devine – Randale
Chris Clark – Farewell Track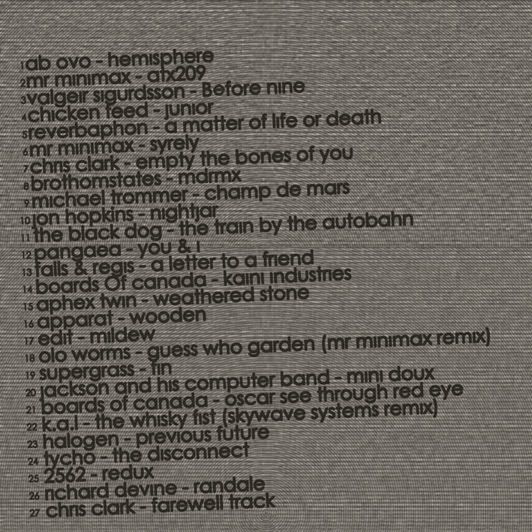 Related