an Underground Electrics promo mix by Posthuman
October 8th is the date that Underground Electrics hits the London club, Elektrowerkz. To celebrate the quite immense lineup of awesome sound that approaches, Posthuman constructed this mix built from artists playing on the night. Full lineup and event details after the mix & tracklist.
A new clubnight from the people behind the Seed Tube Station parties and west London's monthly acid-house retrospective I LOVE ACID. In the recently completely revamped and refurbished Electrowerkz in Angel, Islington, featuring two rooms of bass, beats, breaks and bleeps.
Posthuman – Underground Electrics promo mix
DOWNLOAD
–
Debasser – Reacharounds & Splashbacks
Posthuman – Four Pack
Kansas City Prophets – Navigator
Debasser – Music Freak
Posthuman – Mobile Mast
Kansas City Prophets – Detraffec
Hrdvsion – Thrash1
B12 – Metropolis
Cursor Miner – Errors In My Mind
Hrdvsion – Because I Love You
Quinoline Yellow – Sheepdip
Sunosis – Assured Pass
Quinoline Yellow – Loofers For Shinpads
King Cannibal – Flower of Flesh & Blood
Mint – System Cost (Echaskech Mothership Dub)
B12 – Magnetic Fields
Mint – Aquarius (Posthuman remix)
Digitonal – Volvo
Cursor Miner – Superluminary
Cursor Miner – Hair Of The Dog
King Cannibal – Dirt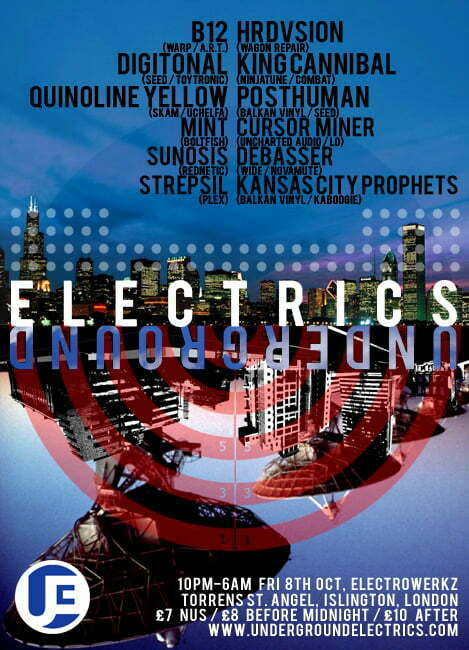 LINEUP
HRDVSION
B12
KING CANNIBAL
POSTHUMAN
CURSOR MINER
DIGITONAL
QUINOLINE YELLOW
DEBASSER
KANSAS CITY PROPHETS
MINT
SUNOSIS
STREPSIL
Friday 8th October 2010 / 10pm-6am @ Electrowerkz
Torrens St, Angel / map: http://tinyurl.com/electrowerkz
£7 NUS / £8 before midnight / £10 after

residentadvisor/event / facebook/event / email for info / 020 7837 6419
Related