BRAWLcast – Bushby, live at Audio-City 27.11.2010
Bushby's back with another mix. This one is a recording of his recent set at Audio-City in Poland published via BRAWLcast, supporting as he did Teebee, DJ T-1000 and recent Mantis Radio guest, and all round techno whizzkid Inigo Kennedy.
Strap yourself in for another quality collection of sound as the Leeds based electronica DJ and multi label owner unleashes a killer selection of new and old techno heavy electro rich beats. Rory St John, Doktrin, Phil Kieran, Siege, Dominik Müller, Green Velvet and DJ Boss together with others lay waste to your inner ear as he thunders through. That Anton Pieete track is one my all time favourite tracks from the always reliable Dutch techno label ARMS.
Bushby, live at Audio-City 27.11.2010
DOWNLOAD
–
Rory St John – Burn Season [Limetree Projects]
Dominik Müller – Wajcha (PO_ remix) [Limetree Projects]
Doktrin – Doorgang (Siege remix) [Limetree Projects]
Sebastian Kramer – Tomorrow [Pure Plastic]
Phil Kieran – My House [Skint]
Rory St John – 13Bullet (Fran Hartnett remix) [Limetree Projects]
Museum – Madame (DJ Boss remix) [Numb]
Green Velvet – La La Land (Dave Clarke remix) [Music Man]
Anton Pieete – All Hands On Deck [ARMS]
Groove Asylum – Riffin (The remix) [Don't]
Devilfish – Manalive [Bush]
Daz Saund & Ben Tisdall – Juggernaut [Missile]
DJ Ze Mig L – Work Dat Butt [Holzplatten]
Rory St John – 13Bullet [Limetree Projects]
Groove Asylum – Work That Sucker [Don't]
Dominik Müller – Heat Flux [Furanum]
Dominik Müller – Wajcha (Dan Fix remix) [Limetree Projects]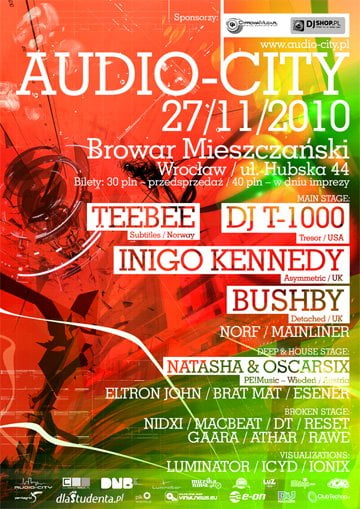 Related