Mantis Radio 127 + Drugstore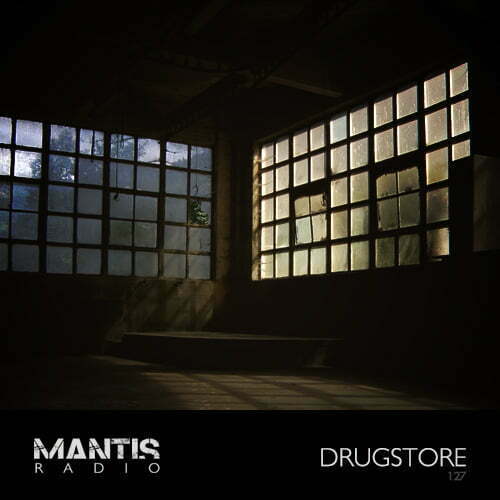 DVNT
Ohmwerk – Neurophycid v4 [dub]
House of Black Lanterns – You Me Metropolis [Houndstooth]
Atiq + EnK – The Glass Kingdom [Mindtrick Records]
Lothus – Broj Melk (c0ma remix) [Abstrakt Reflections]
lapse – shoal [dub]
Luis Ruiz + Mattias Fridell – Untitled 2 [Teskoba]
Contakt – Tessera 04 (Robert Hood remix) [Icee Hot]
Bogmon – SubWreck (Senor Frio remix) [Buried in Time]
Atiq + EnK – Shards Of Brilliance [Mindtrick Records]
Nomine – Searching [Tempa]
Phat Chex – Red Robin [dub]
Mark Broom – Silenced Part 2 [Beardman]
Clouds – Phantom Female [Fifth Wall]
Mutant – AUM [Pareto Park]
Mikael Pfeiffer – The Ball [Driving Forces]
Makaton – The Eternal Host (Inigo Kennedy remix) [Rodz Konez]
Radical G – Wasp [Dancedelic Digital]
Si Begg – Losing It (Patscan remix) [Noodles Recordings]
David Meiser – There is no scape in the Universe [dub]
Soundex Phonetic – Do What Thou Should [No Divide Records]
The Freek Macheen – Bladerunner (DVS NME remix) [dub]
DRUGSTORE
Hadji – Darkness in Casual World [Cicuta Netlabel 017]
Bas Mooy – Nastase [Audio Assault 041]
Femii – Unpleasant Day (Unit 115 remix) [Kidnapping Netlabel 003]
The Thinker – The Automaton (Drugstore remix) [Cicuta Netlabel 016]
Hadji – Retreat [Cicuta Netlabel 017]
Ad.Lib – Sihl [Cicuta Netlabel 015]
Alpha Rhytmika – Fitter [Audio Exit 060]
Inigo Kennedy – Cathedral [Token Records 027]
Kwartz – Silence Turns to Violence [Cicuta Netlabel 014]
David Meiser – Deep Valley [TrusT Recordings 002]
Elektrabel – RJ3 [Cicuta Netlabel 018] April 2013
Shifted – Bloodless [Mote Evolver 033]
Kuniaki Takenaga – Liberalia [TrusT Recordings 002]
Phase – The Chasedown [Token 025]
David Meiser – Perseverance is Everything [Dark Garden]
Kwartz – Silence Turns to Violence (Drugstore remix) [Cicuta Netlabel 014]
Elektrabel – Chronical Objector [Cicuta Netlabel 018] April 2013
#127
Tonight, it's a welcome return for the Spanish techno collective Drugstore.
IN SESSION
They first graced Mantis Radio back in March 2010, showcasing their sound on show #057 – delivering an hour of net label heavy techno.
Drugstore began at the beginning of 2009 as a union of the Bayona Music Collective. One name, six people, one target, six visions of techno music.
Since that session they've been pushing some great techno through their own digital netaudio imprint – Cicuta Netlabel. Plenty of which has made their way into my sets and shows.
The label's latest release from name-to-watch Hadji just the most recent example of the kind of quality these guys seek out and present.
The Balkan producer's ten track release Darkness In Casual World is an actual techno album – an hour(ish) journey through various textures and facets, with quieter and louder moments of pace and pressure – as an album should be. It's built on an at times pure techno approach. Stripped to its core percussive machine music.
Often techno albums end up being a collection of club cuts – on Darkness In Casual World, you get something that appears designed as a whole.
You know what? Download and check it out for youself (as well as the label's other 16, to date, releases).
The label has played host to work from Voidloss, David Meiser, Hyo, Kwartz, Adam Kelly, Komabase, Hoth System together with the collective's own work as Drugstore and if you're not already following its development – consider this your heads up.
–
Missed a show? Catch up with the extensive archives.