Mantis Radio's special 200th broadcast event 27.02
In February our long running (some 9 years believe it or not) show Mantis Radio hits its 200th broadcast, official. Like we did for our 100th back in 2012, we're marking the occasion with a free event in London. Broadcasting the afternoon and evening from Peckham's Rye Wax, worldwide via futuremusic FM, we've the greatest of pleasures in presenting several guests sessions. Current, classic and curveball.
RADIOACTIVE MAN
Our current is the no messing, straight up British electro legend that is Radioactive Man.
We've been a fan of his since before Mantis Radio was even a twinkle of an idea and to have him finally on the show is beyond words. His sets in 2015 (including those absolute blinders at Freerotation and SCAND) have reaffirmed his complete control of all things electro and bass driven. The man behind the alias, the one and only Keith Tenniswood, is also our vinyl engineer and has cut the last 3 Darkfloor Sound EPs, including April's upcoming plate from Herd (more on that soon).
BANDULU
Our classic is the 90s techno + dub trio, the London group Bandulu. Their albums, released back in the day on Infonet (an offshoot of Creation Records) still get regular rotation at our Darkfloor HQ. It's an honour and a privilege to welcome them back, and in session on our extended show no less.
TEXTURE
Our curveball is 2015's Scottish Slam champion and long time affiliate of the show, and Darkfloor aesthetic – Texture. Bram E Gieben's spit, flow and beats have continued to impress us for years, and his Edinburgh Fringe 2015 show #EXNILIO is breathtaking in pace, delivery and content. Recently repressed from a sold-out first edition it's again available, and makes for essential reading and aural abuse.
Combining spoken word, storytelling and live electronic music, #EXNIHILO is a dramatic philosophical journey from darkness into light, from despair to mania.
Attempting control of the whole thing is Mantis Radio's rambling host and attempted DJ – DVNT. If you're in London you've no excuse not to come down this February 27th from 4pm, as we broadcast from one of our favourite places in London – Peckham record emporium Rye Wax (vinyl fans, the shop will be open right up until 10pm).
Mantis Radio 200
– RADIOACTIVE MAN –
– BANDULU –
– TEXTURE –
– DVNT –
–
Saturday 27.02.2016
1600-2200
FREE ENTRY
( facebook )
RYE WAX
CLF Art Cafe, Bussey Building, 133 Rye Lane, London. SE15 4ST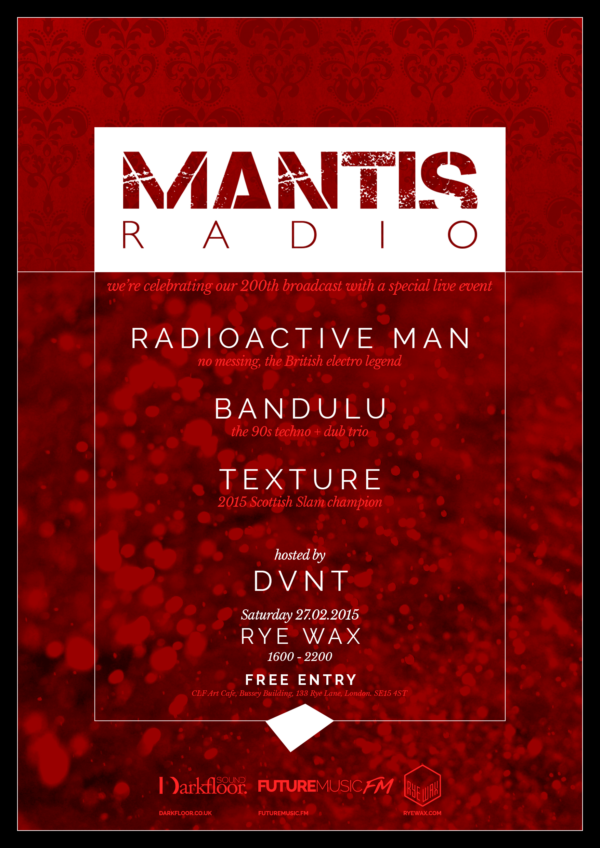 Related