Grovskopa, live at Utkanten. 27.03.2010
Grovskopa should need no introduction to technoheads and those feeling the darkfloor vibe. So you're not getting one. What you are getting is a tracklist, a download link, a stream link, and some words from the man himself. Oh yea, and the flyer from which this recording comes.
I play in Sweden about once every 4 years. There is no techno scene here. So I am trying to ease it in. This set is 130ish bpm, quite housey/Berliny.

Arrangment is also a bit strange, I felt the crowd couldn't really take my typical building arrangment so I tried something more mish-mashy.
Grovskopa, live at Utkanten (Malmoe, Sweden) 27/03/2010
download stream
–
Gil Scott-Heron – I've Been Me (Interlude) [XL Recordings] – XLLP471
Ed Rush & Nico – Defect (Peter Van Hoesen's Twisted Spine Remix) [Perc Trax] – TPT032
Dettmann – Unrest (Norman Nodge Remix) ([Ostgut Ton] – OTON033
Plastikman – Elektrostatik [Plus8] – PLUS8033
Xhin – Link [Stroboscopic Artefacts] – SA002
Fever Ray – Seven (Marcel Dettmann's Voice In My Head) [Rabid Records – RABID043T
Delta Funktionen – Silhouette [Ann Aimee] – ANNXXX
Mod Wheel – Spiritcatcher [Evolution] – EVO091
Mark Broom & James Ruskin – No Time Soon [Blueprint] – BP029
Inigo Kennedy – China Rising (Jolka Mix) [Rodz-Konez] – MAK21
Detroit Grand Pubahs – Stalking You (Robert Hood's Funk U Mix) [Detelefunk] – DET10
DBX – Live Wire [Accelerate] – ACC102
Shed – Kinky Dudes [Soloaction] – SOA1211
Dave Clarke – The Wiggle (Bonus Old School Remix) [Skint] – DEVILS004
Outlander – Vamp [R & S Records] – RS9116
Paul Mac – Too Much (James Ruskin Mix) [Stimulus] – STIM008
Marc Romboy vs. Chelonis R. Jones – The Beat (Robert Hood Remix) [Systematic] – SYST0008-3
Chris Liebing And Tommy Four Seven – Bauhaus (Mallet Mix) [Bauhaus] – BHLTD001
Charlton – Argibalt (Regis – U-Viv Mix) [Labrynth] – LABRYNTH10
Kevin Gorman – Shakey Stripped [Mikrowave] – MWAVE12
Robert Hood – Alpha [M-Plant] – MPM6
Miss Kittin & The Hacker – PPPO (Instrumental) [Nobody's Bizzness] – BIZZ5
Millsart – Gamma Player [Axis] – AX12
Efdemin – Acid Bells (Martyn's Dark Mix) [Metisse] – METISSE2.5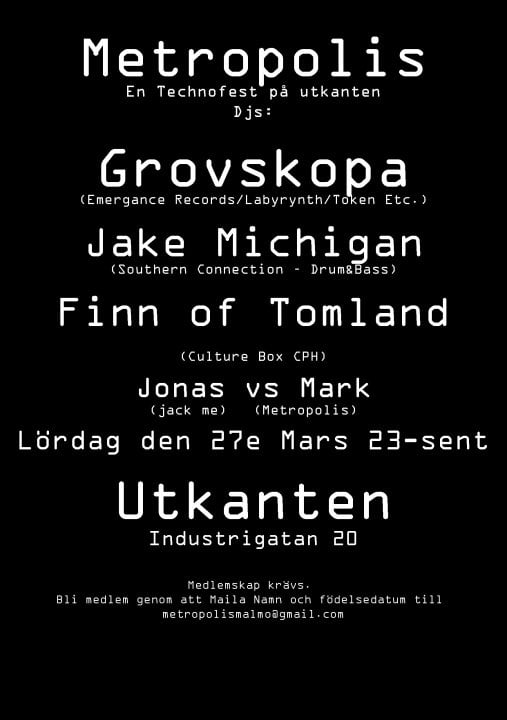 Related