Fancy a screen-printed visualised waveform of Warp, bleep and rave tracks?
Here's a Kickstarter project Warp fans will love. Sheffield designer Alex Szabo-Haslam got in touch to show us his Waveform series. Some very cool looking silkscreen printed posters visualising classic techno, bleep, and rave tracks from Warp Records, R&S and Network.
Your choice of prints includes – Aphex Twin's Windowlicker and Digeridoo, Autechre's Second Bad Vilbel, Forgemasters' Track With No Name, LFO's LFO (The Leeds Warehouse Mix), Luke Vibert's I Love Acid, Squarepusher's My Red Hot Car, and Altern 8's Activ 8 (Hardcore Holocaust Mix).
Soundwaves generated by pieces of music were analysed and redrawn as a series of bars to make beautiful, elegant, abstract shapes. Using traditional, hand-pulled, silk-screen printing processes each waveform is lovingly crafted into a limited edition A2 print, signed and numbered by the artist, Alex Szabo-Haslam.
Alex is a designer who grew up in Sheffield, reared on a diet of Cabaret Voltaire, industrial techno, bleeps, and chips lathered in curry sauce.
6 tracks in the series are taken from Warp Records' back catalogue, with influential works from Autechre, Squarepusher, and LFO. These join an earlier edition of posters depicting tracks from other record labels, including Aphex Twin's masterpiece 'Digeridoo' and Altern 8's anthem 'Activ 8', and will soon be joined by seminal tracks from Plastikman, 808 State, and Orbital.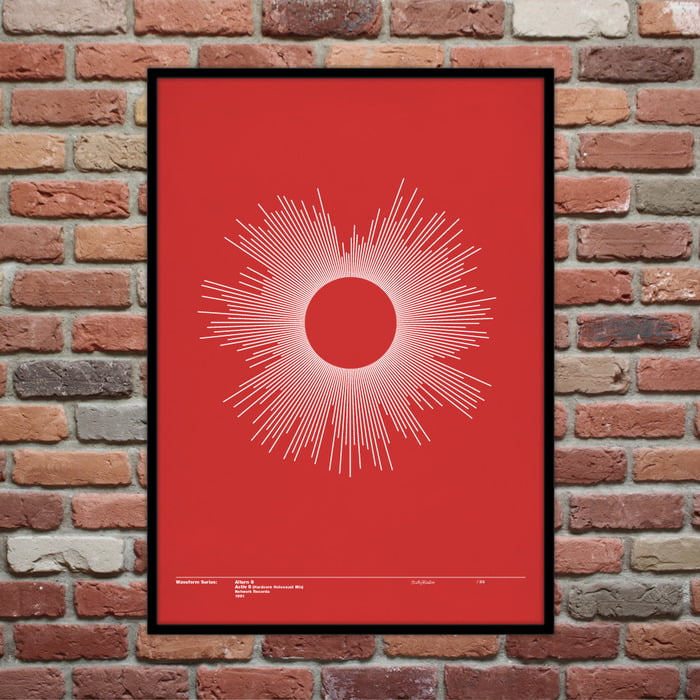 Altern 8 – Activ 8 / Hardcore Holocaust Mix (Network Records)
Related