Mantis Radio 120 + Ingen
DVNT
Si Begg – Freaking Out [Noodles Recordings]
Alis – Maze [Opit Records]
Der Zyklus – Untitled [Wémè Records]
Indigo – Sunrise [Apollo]
Delete – Is That You [Mindtrick Records]
Dettmann – Iso [Ostgut Ton]
Allan Nonamaka – Tangled Cravings [Singularity]
Blackmass Plastics – Bust It [Bad Sekta]
Phat Chex – Shrunken Heads [Darkfloor Sound]
Legowelt – Sketches from Another Century [Clone]
Lex Gorrie – Impending Doom (Sutter Cane remix) [Driving Forces]
Seb Marx – agro [dub]
Substep Infrabass – I Aesepthism (Infra remix) [Crude Records]
ONTAL – Disorientation [Darkfloor Sound]
Datacrashrobot – Decompiler Surge [Battery Park Studios]
Clouds -Those Cracks In Your Face, Do They Hurt (Truss remix) [Turbo]
MPIA3 – Acid Badger [R+S]
Paul Birken and Freddy Fresh – The Fate of Thirty Eight [Earwiggle]
Threnody – Depth [dub]
Si Begg – Fight To The Death [Noodles Recordings]
INGEN
Ingen – He get's fed at Home [dub]
Savier – Alright Moldies (Ingen Rubber Grip Kick mix) [dub]
Black Motif – Spijkermat (Ingen demo remix) [dub]
Ingen – Roof Thumper [dub]
Audiocharge – K-Cat (Ingen remix) [Wired Room Records]
Ingen – Help Yourself [dub]
Ingen – Fixy [Fixate Records]
Raymond Sieben – Fuck Finger (Ingen remix) [Fixate Records]
Ingen – Nation Street [Fixate Records]
Ingen – Subway [dub]
Ingen – Snap the Tilt [Digital Distortions]
Ingen – Lusher [Digital Distortions]
Ingen – TRYC9 [Digital Distortions]
Ingen – Downstairs Mixup [Digital Distortions]
#120
This week on Mantis Radio we present Edinburgh's Kevin Blackwood aka Ingen. We have also have a competition for 2 lucky people to each win a copy of Bambounou's Orbiting and Mouse on Mars' Wow.
IN SESSION
Producing music since 2005, it's today in 2012 that he's starting to understand where his compulsion has come from and why he's into producing the sounds he does.
Putting together his showcase session for Mantis Radio, a session made up of his own production work no less, has allowed Blackwood to reflect on his studio approach, an approach he says 'sounds clearly different from my DJ sets. Darker, harder and more driven.'
By means of an example, a recent recording of him DJing at his residency at Coalition, Sneaky Pete's in Edinburgh.
'I try to approach music making with an open mind. Always trying to work in ideas from all walks of life'.
His work has seen release on Leeds mighty imprint: Digital Distortions, a label 'which for a long time has been one of my favourite underground labels, DD are a great portal for my more broken/offbeat work'.
His recent 3 track Lusher EP proving to be a favourite here at the Darkfloor hive.
Alongside that is his 'Griefection' two track release for home grown local label Fixate, where upon Blackwood goes for a much more four to the floor style.
COMPETITION
For a chance to win both a CD of Bambounou's Orbiting and Mouse on Mars' Wow on 50 Weapons and Monkeytown Records respectively, listen back to the show and answer the very easy question, then get in touch.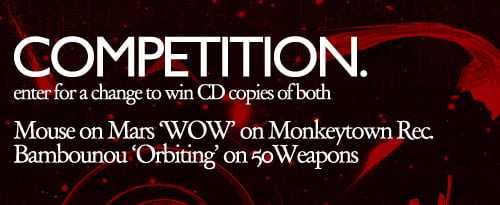 Deadline for entries: Sunday, December 30th 23:59 GMT.
–
Missed a show? Catch up with the extensive archives.