Human Traffic, the interview
Human Traffic's music has been included in many an industrial mix since their initial self-released EP Digital Ecstasy, but with a name referencing the modern slave trade, Human Traffic makes a memorable impact before one even hears their music.
The slick lines of their minimalist logo adorn the halls of NVR MND, SUBSTANCE LA, and other fixtures of the post-witchhouse gothic landscape. The Kansas City based trio composed of Rehab, Vicki Sixx and Lola Rat has been hard at work on a new full length album while managing the underground venue Negative Space.
Since it's inception industrial music has functioned as a form of socio-political rebellion while simultaneously invoking a love-hate relationship with machinery. In a modern America where police murder helpless citizens without consequence, the government tracks our every move, and corporations determine international policy, it's no wonder that a new breed of music has emerged to express the rage and frustration of the oppressed populace.
Describing their sound as
post-industrial suicide pop laced with traces of cold techno noise therapy
Human Traffic is part of a rising wave of glitchy American industrial music paired well with acts like 3TEETH and High Functioning Flesh.
Their latest offering My Body is a Mechanism, is a glitchy music video collaboration with NVR MND –
When / how did Human Traffic form?
From organic filth and sewage, almost two years ago.. but we have known each other longer than that from previous projects and other social circles. We were at a house show one night and decided we didn't want to keep getting drunk in basements anymore or pursue whatever it was we thought was important at that time. Neither of us felt challenged or creatively fulfilled. There was a serious lack.
Overall we were both unhappy and had apparently been keeping this mutual interest in electronic music a secret from each other as well. It's almost like we had been doing our homework in the dark so that our peers wouldn't catch us studying. We traded in our instruments for software and plugins and haven't looked back ever since.
What are some of the main inspirations for the visual art and music of Human Traffic?
It changes often and sometimes it's hard to keep up with…
The club. Life outside of the club. Being punk. Ritualism. Spiritual incarceration. Psycho / logical behavior. How we relate to the body. Fetish culture. Violence. Controlled substances. The visceral experience. Unnatural healing. Ultimate purity. Social media interaction. Anticultural landscapes. The post-internet era. Artificial intelligence. Cyber warfare. Apocalyptic couture. Disobedience and punishment. Submission and repression. Physical endurance. Sensory deprivation. Divinity machines. When technology malfunctions. Distortion and the glitch. Oppression under capitalism. The discount DJ section at the record store. Remembering who the enemy is…
We seek a total and excessive aesthetic where the soundtrack is equal to the image.
Upcoming plans / goals?
Right now we are scheduled to perform at Cold Waves music festival in Chicago this September with Godflesh and Front Line Assembly. That sort of came as a shock to us and still seems unreal but playing more events like that would be ideal and is something we have always wanted to do. We want to tour out of the country too. Until that happens we are going to further explore producing more video work and release material through that medium as opposed to just a track on its own.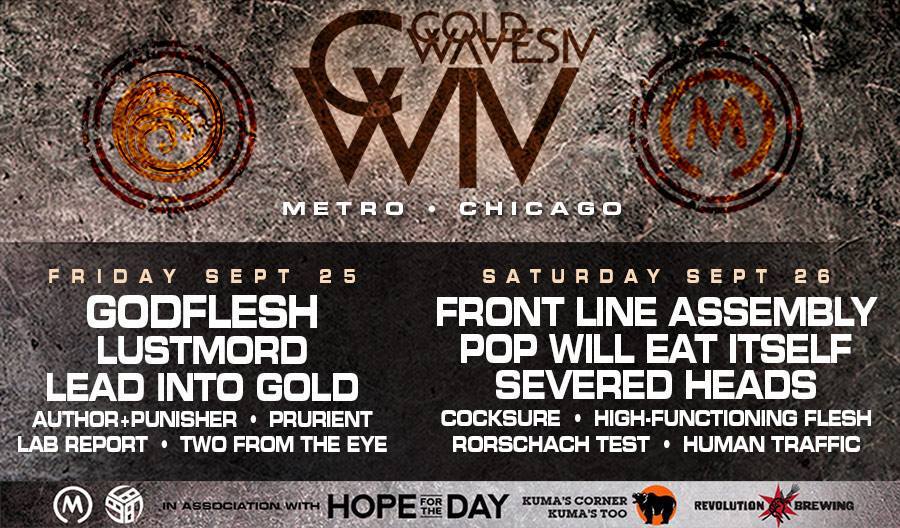 Aside from that the album is pretty much done. We are looking for someone interested in releasing it on a label or representing us in general. That's all we can really hope for at this point.
If you could work with any artist or musician in the world, who would you most like to work with?
Sylvia Lajbig of Inside Flesh / Suka Off.
The similarities in motives and aesthetics of both our projects are synonymous in several ways that it would only make sense for a collaboration to occur if the opportunity were ever presented to us. The collective represents human carnality in all its aspects existing in a world of postindustrial imagery where the body has no value outside of the picture. The body is part of the picture and the picture is part of the cinema.
We would also be interested in working with Rushmore of Trax Couture. The razor sharp drama he has created on the dance floor recently has caught the attention of some more than once. Rushmore continues to progress extremism in pre-existing structures a characteristic we would like to say we share with the producer.
Cover photograph by LA Substance.
–
For more on Human Traffic, visit their various social areas
Bandcamp, Facebook, SoundCloud, Tumblr, Twitter
Related