Mantis Radio 124 + Dexterous Numerics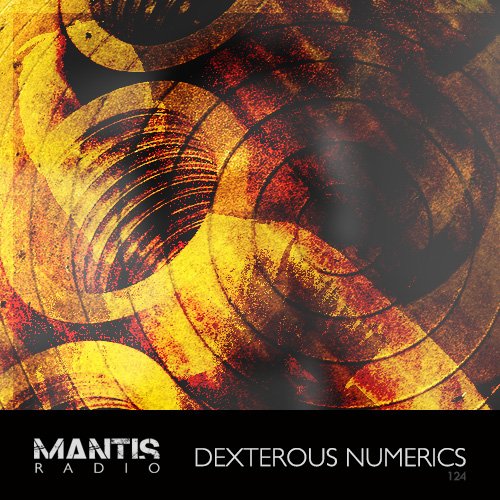 DVNT
Unseen Intruders – Preface [Bedroom Research]
DJ DIE SOON – Danocho Tatari [djdysu]
Pleq and Josco – A Broken Memory [Assembly Field Netlabel]
ATILLA – Funebre – II [ATILLA]
Limo – Boot Break [Fachwerk]
Scorn – Hedrake [Hymen]
Spookhouse – SB3RMX3.1 [dub]
Speedy J – Pure Energy [Novamute]
Si Begg – UFO Theme (Composite Technique remix) [Noodles]
Architect – Creme Cuts [Pavillon36 Recordings]
Inigo Kennedy – Cathedral [Token]
Benjamin Damage – Swarm [50 Weapons]
Cassegrain – Joule [Prologue]
Dave Clarke – Wisdom To The Wise (Red 2) (Steve Rachmad dub) [Boysnoize Records]
Maztika – Tria Mera [Audioexit]
Si Begg – Losing It (Gella remix) [Noodles]
The Thinker – World Revolution (Hyo remix) [Cicuta Netlabel]
Scott Robinson – Cause Trouble [dub]
Adam Kelly – Terminal [dub]
Cocky Balboa + Family – Showcase (8EN) [Juke Trax]
Somatic Responses – Fly-By (Anodyne's They Come By Night remix) [Acroplane]
Polyklinik – Timelapse [Bedroom Research]
DEXTEROUS NUMERICS
Dexterous Numerics – Dex Intro
Dexterous Numerics – Metal People In My Head
Dexterous Numerics – Cyborg Initiation
Dexterous Numerics – Venture Portal
Dexterous Numerics – Untitled
Dexterous Numerics – Synthetic Human
Dexterous Numerics – Sunset Highway
Dexterous Numerics – Shadow Zone
Dexterous Numerics – Einsteinium 253
Dexterous Numerics – Dannz
Dexterous Numerics – Untitled
Dexterous Numerics – Nimbus Program
Dexterous Numerics – Generate Psychosis
Dexterous Numerics – Whats Your Name ? (Outro)
#124
This week please welcome to the showcase session Dexterous Numerics.
IN SESSION
Raised on a diet of Depeche Mode, Thomas Dolby, The Art of Noise and a host of eminent 80s synth artists – Stuart Flower followed a path into the stylings of electro with his Dexterous Numerics project. His is a love and passion for the wide range of electro from the early hip-hop breakbeats to the dystopia drives, through Detroit's take on techno and Chicago's on house.
Over the past two years his Dexterous Numerics project has taken shape signing to Miami's Devine Disorder label. Debuting with Dannz on their Bass Warriors Vol 2 release. His track quickly perked interest within electro circles leading to his first release proper: NanoMechanics. B-Boy Breakdown and his remix of Neonicle's Hz both reached the #1 chart position on Juno's electro best sellers list.
Flower also releases work as The Electric Ocelot, his self described 'technocentric' alias. Late last year he presented a four tracker; his Neural Impulse EP on Finnish label Lasergum Records.
Into 2013 and it's already looking productive with a second EP due to drop on Devine Disorder in the next few months.
–
Missed a show? Catch up with the extensive archives.