PRIMER: An Introduction to Surgeon
PRIMER is an introductions mix series produced by Darkfloor for Mantis Radio. For the first in the series I'd like to introduce you to British techno don Surgeon. He is a familiar name to many of you already so this may well be a reintroduction. Nevertheless, enjoy.
Anthony Child is a living legend of the British techno scene, releasing since the mid 90s as Surgeon for some of the most important labels in the scene. He's resident at one of the UK's longest running club nights, Birmingham's fabled House of God. He's one half of the formidable and uncompromising British Murder Boys, with Downwards co-founder Regis. As well as one half of TRADE with Blawan. If that wasn't enough, in addition to the techno with which he made his name he records and releases under his own name, deep, experimental, drone and ambient sound.
Ahead of his guest mix for Mantis Radio 343 that will be published July 4th, I wanted to dig into Surgeon's impressive discography and introduce some of the tracks with which he made his name.
From his early brutalist releases to contemporary heady tracks from the last decade, PRIMER features many of my own personal favourites, with material from his labels Counterbalance, Dynamic Tension Records and SRX; together with cuts from Blueprint, Downwards, and Tresor.
_
Surgeon – Depart [Tresor] (1997)
Surgeon – Lash [SRX] (1996)
Surgeon – (Intro) Version II [Tresor] (1997)
Surgeon – Set Two [Tresor] (1998)
Surgeon – Box [Tresor] (1998)
Surgeon – Remnants Of What Once Was, The Hollow Men, Ice [Tresor] (1999)
Surgeon – Sleep (Ultra Violet) [Dynamic Tension Records] (2000)
Surgeon – Shaper Of The Unknown [Counterbalance] (2001)
Surgeon – Magneze [Downwards] (1994)
Surgeon – Badger Bite [Downwards] (1995)
James Ruskin – Take Control (Surgeon Remake) [Blueprint] (2005)
Surgeon – Bad Hands (Break Part II) [Dynamic Tension Records] (2007)
Surgeon – Body Request [Counterbalance] (2009)
Surgeon – The Crawling Frog Is Torn And Smiles [Dynamic Tension Records] (2010)
Jolka – Five (Surgeon remix) [Sect Records] (2010)
Surgeon – Transparent Radiation [Dynamic Tension Records] (2011)
Surgeon – Radiance [Dynamic Tension Records] (2011)
Darqwan – Said The Spider (Surgeon remix) [Texture Records] (2012)
Oneohtrix Point Never – Remember (Surgeon remix) [Software] (2012)
Surgeon – Search [Blueprint] (2016)
Surgeon – The Primary Clear Light [Dynamic Tension Records] (2018)
Mogwai – Fear Satan (Surgeon remix) [Eye Q Records] (1998)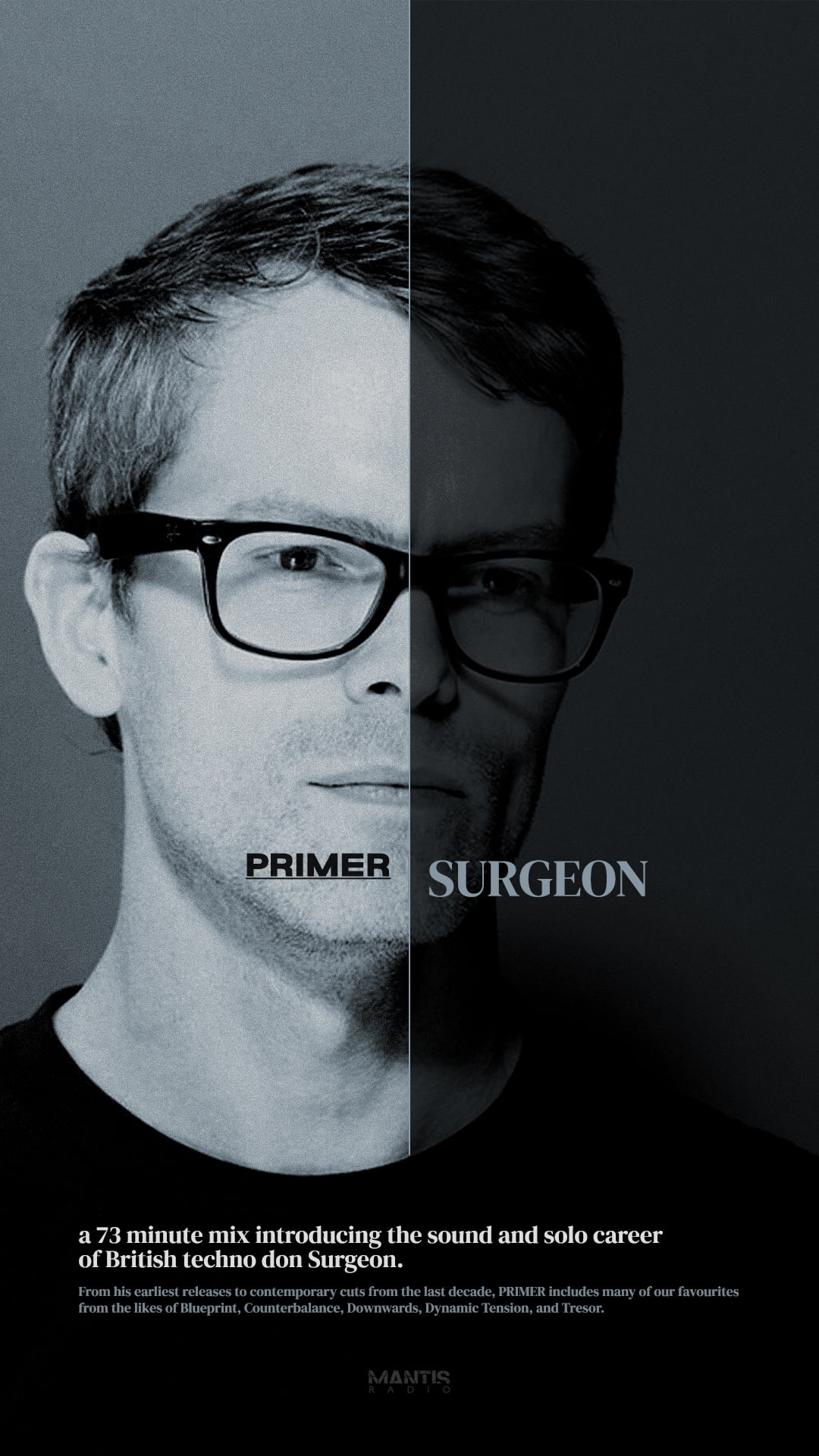 Related