Mantis Radio 199 – Timothy Alexander
Become a Patron, support the show.
Sonic Groove's Timothy Alexander is our guest today w/ a mix of dark techno. We've music by Kerridge, Rabit, Bintus, Meat Beat Manifesto, Parris, Black Sun Empire, J. Tijn & Skee Mask.
DVNT
Emika – Count Backwards (Kryptic Minds remix) [Ninja Tune]
Parris – Blue [Idle Hands]
Sensational + Kruton – You In The Right Spot [Power Vacuum]
Bintus – S.E.G. [Shipwrec]
J. Tijn – Infuse (Skee Mask remix) [Resin]
Kalter Ende – Report (Andreas Florin remix) [CONCERN]
Noumeno – Brain Muff [Haunter Records]
Kerridge – FLA·1 [Downwards]
In Darkness There Is Light – Music for People Who Like Faded Photographs [unreleased]
A Vengeance – CAIRO [Darkfloor Sound]
Rabit & Dedekind Cut – R&D-iii [Ninja Tune]
J:Kenzo – Enter Valarak [Tempa]
Meat Beat Manifesto – Zenta! [Metropolis]
Black Sun Empire – Cold Crysis [Shadows Of The Empire]
Youngsta & Seven – Architects [Tempa]
TIMOTHY ALEXANDER
Timothy Alexander – Encompassing Fragility
Casual Violence – Anabiosis
Soj – Annulled Religion
Cage Suburbia – The Vault
Tomohiko Sagae – Perversion
Ansome – Tony
Phooka – Armspin
ADMX 71 – My Theme Song
Primitive World – Purple Caps (Not Waving remix)
Timothy Alexander – Untitled
Timothy Alexander – Masculinity
SRNDR – As Said, As It Started
Svreca – Vilna (Orphx remix)
Surgeon – Sheffield Muggerscum Out (The Black Dog remix)
Timothy Alexander – Malevolence III
Timothy Alexander – Tread In The Ash
Chris Page – Pedestrian (Timothy Alexander remix)
Casual Violence – And Know Me
Refracted – Ascent
Antonio De Angelis – Kristal Large (Exium remix)

Featured Guest
Up this week in the Mantis Radio session hot seat, we've Berlin based, Lancastrian born, Timothy Alexander. From releases on Adam X's seminal and ever essential Sonic Groove to his own Diacope Records, Alexander crafts heavyweight tech wares for dimly lit clubs. Perfect material for a Mantis session then.
Up next for Mantis Radio is our 200th broadcast, a live event in London on Saturday, February 27th.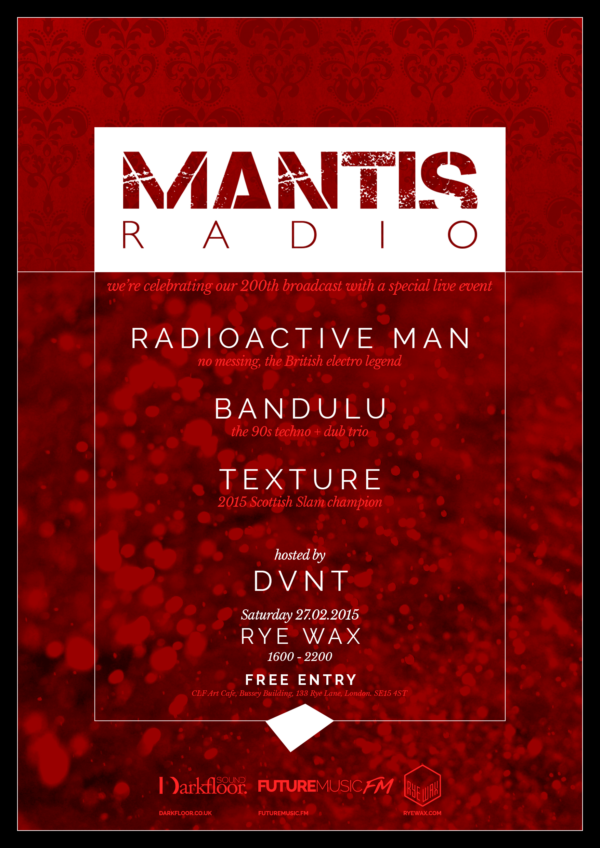 Mantis Radio. Archives »
Related