Lifecycle's 'Epileptic Deck' mix
Hot of the presses this one. Uploaded just mere hours ago by Ricochet Records owner and boss Lifecycle who's recent LP release: Luxury Condominium has been getting a lot of repeat action on my iPod and earbuds. If you like breaks infused with the awesomeness of electro then you're off to a good start with this mix.
Those of you in London can catch Lifecycle (and me, DVNT) at his night in October. Headlined by Shimon of RAM Records fame. Flyer after the drop.
Lifecycle – Epileptic Deck mix 2010
download stream
–
Bitstream – Step Retracing [Touchin' Bass]
Ion Driver – Revolution [Ricochet Records]
October, Decoy – Ill Music [Timecode Recordings]
Karton – Spacetrip 82 (Beta remix) [Sound of Habib]
Lifecycle – Gluttonous Dub [Ricochet Records]
Stephen Beaupre – Stay Here Every Night [~Scape]
Luke Vibert – Cash'n'carry Acid [Planet Mu]
Innume – Right Down [Cultivated Electronics]
M. Fukuda, Masaru Uchida – Call or Drop (Seri remix) [Underscore]
Lifecycle – Pulse [Ricochet Records]
Ion Driver – Warm [Ricochet Records]
Kero – Prof Railer [Touchin' Bass]
Lifecycle – Chatter [Ricochet Records]
Geeneus – Congo [Tempa]
Rennie Foster – Water Drums [Dirty Works]
Shackleton – Massacre [Scuba]
Martyn – Hear Me (Zomby remix) [3024]
Lifecycle – Danger [Ricochet Records]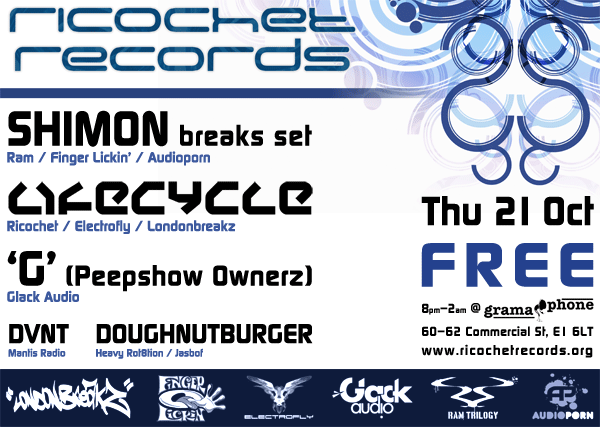 Related