Matt TDK's RTE 2FM mix
Back in March (Saturday the 14th to be precise) on Ireland's RTE 2FM Late Sessions, we celebrated our 5th Darkfloor Sound EP Mechanistic Overlap, with a seriously tough hour of beats from featured artist Matt TDK.
Amongst his 60 minutes you'll find 3 of the 4 tracks from our new EP, including TDK's slamming, atmospheric, paranoia inducing Industry, amongst his proper selection of the good stuff.
Shouts to Sunil and all at the Late Sessions. Enjoy.
–
Vacated – RM2 (re-edit) [Darkfloor Sound]
Radial – Boks [Mord]
Airsilk – Wicca [RDL47]
Lag – Konrola (Bas Mooy remix) [Mord]
Lag + Forest People – The Anvil [Darkfloor Sound]
Jamie Curnock – Transportation [Onnset]
J. Tijn – Kanon [Music Man Records]
Ontal and 2nd Gen – Shock [Ontal Series]
Matt TDK – Electro #4 [unreleased]
Tinfoil – Foil 5 [Tinfoil]
Bleaching Agent – Elastique [Komisch]
Lag + Forest People – The Beast [Mindcut]
Matt TDK – Industry [Darkfloor Sound]
Paula Temple – Deathvox [R&S Records]
RW\\JT – Exit 7 [Brothers]
Jerome Hill – Frogmarch [Mindcut]
Tension Seeker
Sunil Sharpe – ShakEyaku [Bombtrap]
Clouds – Teenage Boy [Soma]
Manni Dee – Sister Nobody (Mønic Version) [Osiris Music]
Mr Jones – Under The Radar (AnD remix) [DSNT]
Joe Farr – Rampart [Power Vacuum]
This Friday April 10th at Peckham's Rye Wax we're having a free in-store EP launch.  (Facebook / Resident Advisor)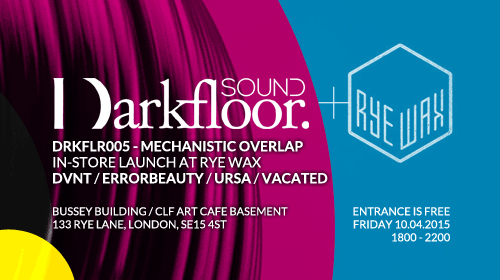 Related