Mantis Radio 181 – Bombardier
Become a Patron, support the show.
Bombardier returns to Mantis Radio w/ a live studio session, showcasing his rich high grade take on industrial sound. In the first hour, new music from B12, Voidloss, Skee Mask, Walls, James Ruskin & Mark Broom, and former of Fuck Button, Blanck Mass.
DVNT
ZONE EATER – Spice Is Love, Spice Is Life [ZONE EATER]
Loghi – Andà [Psychonavigation]
WALLS – Voluta [Ecstatic]
Kerovnian – Of Oblivion Undead [Cold Spring]
B12 – Descension [Soma Records]
Blanck Mass – Dead Format [Sacred Bones]
Kashgar – Kashgar Lover 7 (Srops Pans Srtings) [Acre Recordings]
Skee Mask – Larus Canus [Ilian Tape]
Ruskin / Broom – Hostage (live edit) [Blueprint]
Broken English Club – Dry Cutting [Cititrax]
Voidloss – Each little hurt in a little pile [Subsist]
Kolde – Vision 9 [Kolde Records]
Replicant – Black Light [Replicant]
Rutherford – Spoken Word [brokntoys]
Darkmode – Booty Time [Bass Agenda]
Rudeboyz – Japanese Sax [SoundCloud]
BOMBARDIER
Bombardier – The Space Where She Was
Bombardier – Disappearing
Jason Snell – Sequence 7
Bombardier – Factory
Wirewound – Surge (Bombardier remix) [Dark Industry DI XII]
Bombardier – Malice Aforethought [D13 004]
Bombardier – In Ecstasy [Ljudkalendern]
Bombardier – Laughing Madman [Pale Noir 024]
Bombardier – Day Before the End [DI IX]
Bombardier – Hidden Razor [Squarewav 7]
Martyn Hare – Unforgiving (Bombardier remix) [Emetic XV]
Bombardier – Beneath the Surface [Spirit of Progress 23]
Bombardier – Casteljau [D13 S02]
Bombardier – Seventh Head of the Hydra [Emetic XVIII]
Bombardier – Abyss [Spirit of Progress 23]
Bombardier – Pavement
Bombardier – Phantom [D13 S05]
Bombardier – Leviathan [Dark Industry DI IX]
Hyena – Deformities (Bombardier remix)
Bombardier – Beirut [D13 S04]
Bombardier – Insomnia
Bombardier – Perdition (Ambient Mix) [D13 008]
Bombardier – Exorcism [Low Res 003]
Mahr – When Her Story Ends (Bombardier remix)
Bombardier – Surface of the Moon [D13 015]
Bombardier – Sands of Time [D13 015]
Bombardier – The Space Where She Was
Featured Guest
We are overjoyed to not only have Jason Snell back on the show, in session once again as Bombardier, but to have him performing live from Darkfloor HQ in Peckham, London. His first guest appearance was 2 years ago for show 139. Much like that 2013 session, rammed to the rafters as it was with his own material, he brings another perfect flow of industrial electro and heavy techno. Very much reaffirming why we love his sound so much.
Performed on two Native Instrument Traktor X1s, a Waldorf Blofeld, Moog MF-Drive, and his self coded iOS app Bombardier Refraktions. This is very much a performance not to be missed.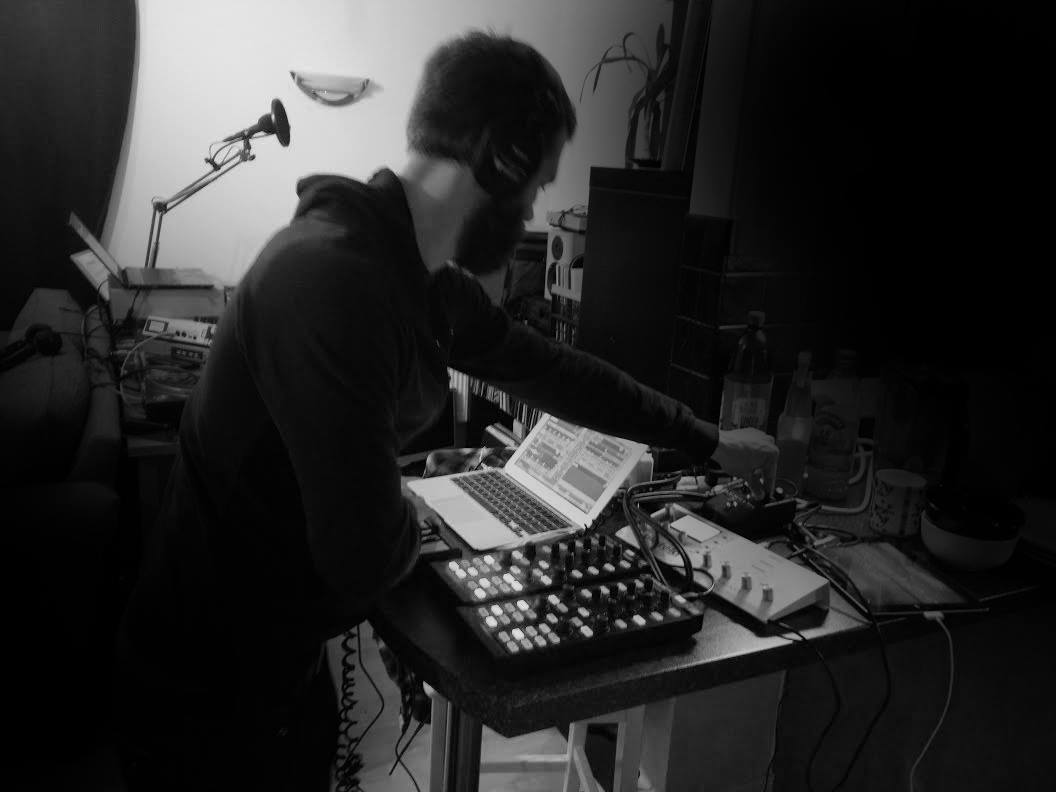 Snell's latest work, Rise of the Machines is out now.
Catch him live in Prague next month June 12 + 13 and at a to-be-announced date in Berlin.
Mantis Radio returns, June 9th with fzv and a live studio session.
Mantis Radio. Archives »
Related