Listen to a mix by DVNT for Seance Radio's Secret Self show.
On Sunday July 21st UK techno and electronic focused Seance Radio broadcast an hour long mix from DVNT. Recorded for Simon Heartfield's show Secret Self, the mix channels a variety of sounds as it rolls along.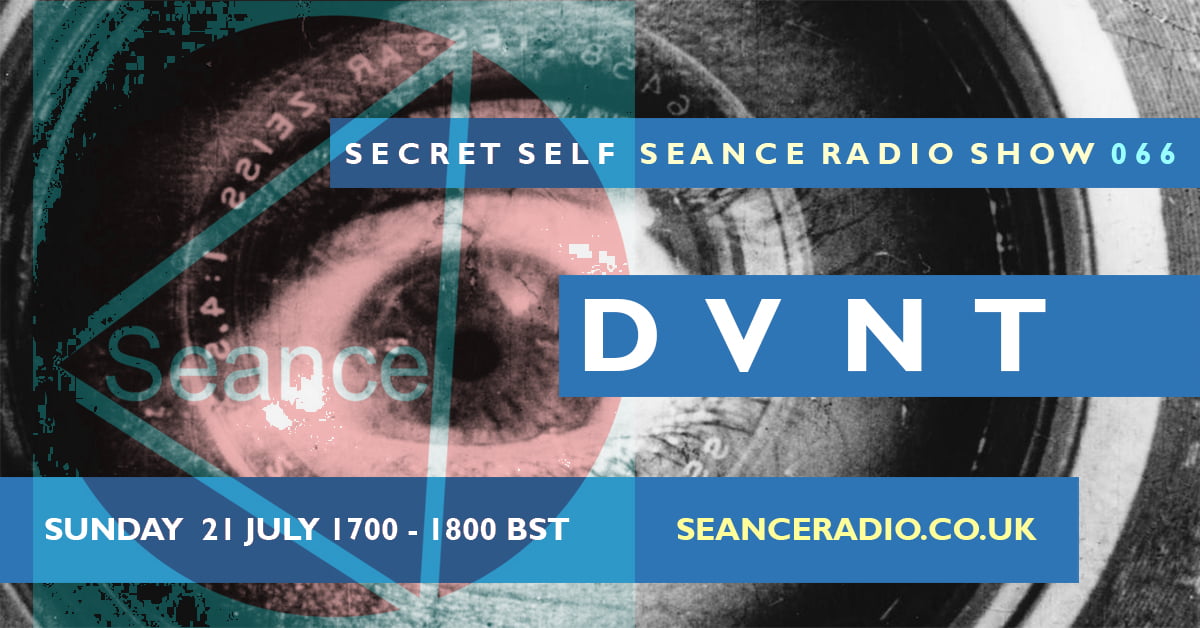 From brand new cuts by Pär Grindvik and Peder Mannerfelt's new collaborative project Aasthma and pounding techno from Acre Recordings and Black Mantle. Another collab that, this time Scotland's C Mantle and Ingen. To upfront and fresh electro from Umek's long running project Zeta Reticula, Radioactive Man's latest via his own imprint Asking For Trouble, and the slamming grind of Domenico Crisci from Opal Tapes' recent (and excellent) compilation Amateur Vampires. A milestone 150th release for the Newcastle Upon Tyne label. Alongside the club wares there is music from one of our favourite releases of the year, from the LP A Gaze Among Them by Canada's experimental metal 3 piece BIG BRAVE. And, amongst all that new music there is a cache of old and very old cuts too.
Mid 90s jungle from DJ Rap, early Mills and Mad Mike, Marc Acardipane's Rave Creator, Frank De Wulf remixing Ken Ishii, rhythmic noise experiments from French hardcore don Laurent Hô, and a cut from Birmingham's mighty Sabbath and their genre defining 1970 classic Paranoid.
– DVNT is available for DJ bookings in the UK/EU.
– Contact us for more information.
–
Aasthma – Rotating Blue Device [Aasthma]
DJ Rap – Digable Bass (Heaven remix) [Proper Talent]
Prurient – Time's Arrow (Unsolved) [Hydra Head Records]
The Martian – Lost Transmission from Earth [Red Planet]
Jeff Mills – Java [Purpose Maker]
Black Mantle – Slouching Towards Birmingham [Acre Recordings]
Rave Creator – A New Mind (Thai Acid Mix By DJ Jamo & Jack Knives) [Dance Ecstasy 2001]
Pedar Mannerfelt – Temporary Psychosis (VIP Mix) [Peder Mannerfelt Produktion]
Zeta Reticula – Formation Of Life [Mechatronica]
Ara-u & Radioactive Man – Failure to Communicate [Asking For Trouble]
Domenico Crisci – Napoli Power [Opal Tapes]
Ken Ishii – Stretch (Frank De Wulf remix) [R & S Records]
6SISS – The Gentle Drifter [Acre Recordings]
VASE – Content Locked [Opal Tapes]
BIG BRAVE – This Deafening Verity [Southern Lord]
Black Sabbath – Planet Caravan [Vertigo]
Laurent Hô – DXF [Uncivilized World]
Related