Tactile '2nd Birthday Mix' by Subeena
Ahead of her upcoming performance at this Saturday's London event Tactile, Subeena drops this 36 minute promotional mix. Giving an insight into what tracks are doing it for her at the moment. If you're in London next weekend, head down to Shoreditch to catch her dropping a liveset of her own material.
Subeena made her name with a wicked release on Planet Mu last year. 'Picture', released on her new Opit Recordings, was featured on Surgeon's recent Fabric mix. Add to that an excellent FACT mix of her own, a superlative anthem in 'Boksd' and you've got a serious talent. We were frankly blown away when we saw her playing live at a Planet Mu night at Corsica Studios and we can't wait to see her in action at The Horse & Groom.
Subeena – Tactile 2nd Birthday Mix
STREAM
–
Subeena – Neurotic (Greymatter remix)
LFO – Monkeylips
Reggie Dokes – Dream Catcher
Photonx – Motargil
Unknown – Unknown
Eccy – High Society Groove
Sharmaji – How To Move
Pariah – The Slump
Redlight – What You Talking About (Refuge's Ennui Ahoy remix)
Velour – Kick It Til It Breaks
Baobinga & DVA – This One's Wavey
Skepta – I'm There
L-Vis 1990 – Forever You
Robert Babicz – Prism
Sbtrkt – Hold The Line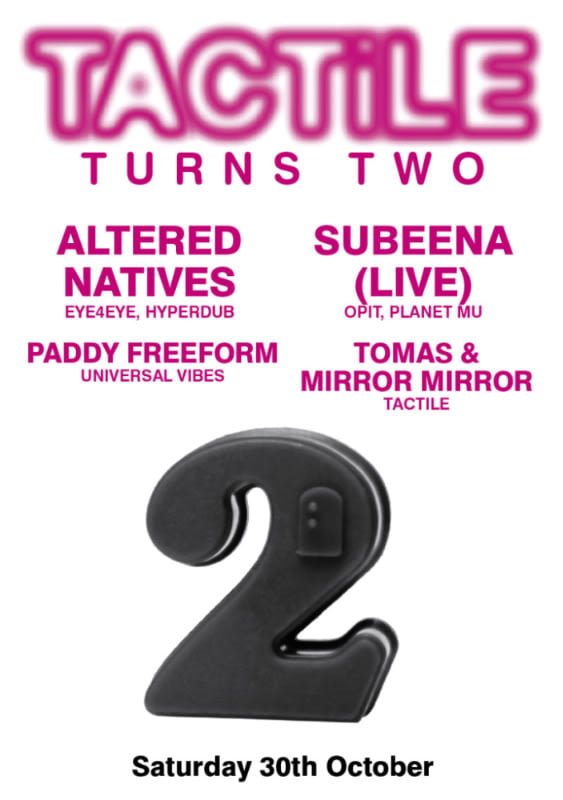 Related