Ekman album M.S.P. drops June on Solar One Music
There's such an overabundance of sheer plasticity in today's electronic dance music scene, sometimes it feels like all the good folks who are flying the flag high for quality underground dance music are being drowned out by folks who took the parody that was Sinatra by Miss Kitten and The Hacker right out of its original context and embodied what that tune was all about – plastic, shameless and self-interested clubbing. Scenes with no substance.
Thank the ghosts of Roland machines rotting away unused in forgotten shelves and closets then that there are still artists who burst out and develop full albums of pure understated unkut raw, real electronic music.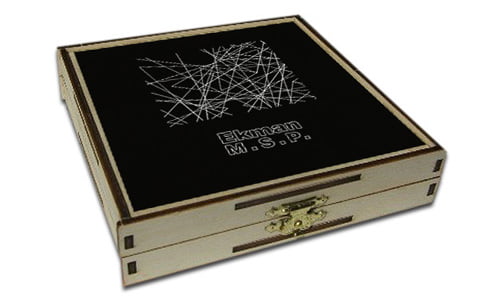 I came across just such an artist when I first saw the promo appear for Solar One's latest: Ekman's M.S.P. album. My first thought was that the packaging was overkill. Until I heard the entire album.
I can only imagine the chief cut selector over at Solar One's excitement when he first heard this album – it was special. It was going to stand out.
Let me tell you right off the bat, with no shots intended, there are a lot of producers in the electro field who channel the blueprint laid down by earlier masters of the craft – folks like Anthony Rother, Dopplereffekt and Drexciya. It's a fantastic sound, and there's a reason it became the defacto blueprint for an entire generation of electro producers and DJs. But to capture the essence and spirit of that sound and make it your own? That's something special.
I won't go into long drawn out descriptions of each track on this album, because I don't believe you need me to draw you a picture. This is raw, beautiful electronic music that came from a producers soul – you can hear it, you can feel it and it stays with you when you listen to it. It is an album that helps elevate the electro scene – and at the same time provide it with another strong pillar of support. It puts down roots among other great albums that we'll all still be talking about years from now.
The electro scene is small and extremely passionate – it's albums like M.S.P. that convey to the casual listener why there is such unbridled passion behind that scene. Recommended and available from June – limited edition of 100.
–
Ekman – Coriolis Effect
Ekman – Cosmic Acceleration
Ekman – The Vacuum
Ekman – Phantom Energy
Ekman – Frequency Is Matter
Ekman – Nasty Infinity
Ekman – Schwarzschild Radius
Ekman – Missing Satellite Problem
Ekman – Ergosphere
SOM023
Mad Wax writes about music that moves him over at City of Bass and runs Vocode Records
Related