LDN / Flint Kids, Defunkt Dialekt, DVNT + more
Next Friday – June 17th – electro, techno + bass centric London night Frequency Resonate returns to the capital with an all nighter.
On the lineup – live sets from Flint Kids, Defunkt Dialekt and Veronica Green. With DJ action from our own Darkfloor familiar DVNT joining residents Errorbeauty, ADJ and XOR12 + Ollie. Playing host, London Bridge venue Southwark Rooms The Shelter in Dalston.
lineup
Flint Kids (Interakt, Abstrakt Reflections)
Defunkt Dialekt (Irrational Media Society, Digital Distortions)
Veronica Green (Earthlings, Touched)
DVNT (Darkfloor Sound, futuremusic FM)
residents
Errorbeauty (Crobot Muzik, Arkada Records)
ADJ (Pyramid Transmissions, Detuned)
XOR12 + Ollie (Arkada Records)
–
17.06.2016 / 2200-0500
The Shelter, 267 Kingsland Road, Dalston, London,  E2 8AS
Southwark Rooms, 60 Southwark Street, London, SE1 1UN
nearest tube London Bridge
Advance tickets available at Ticketsource, more on the door.
Facebook / Resident Advisor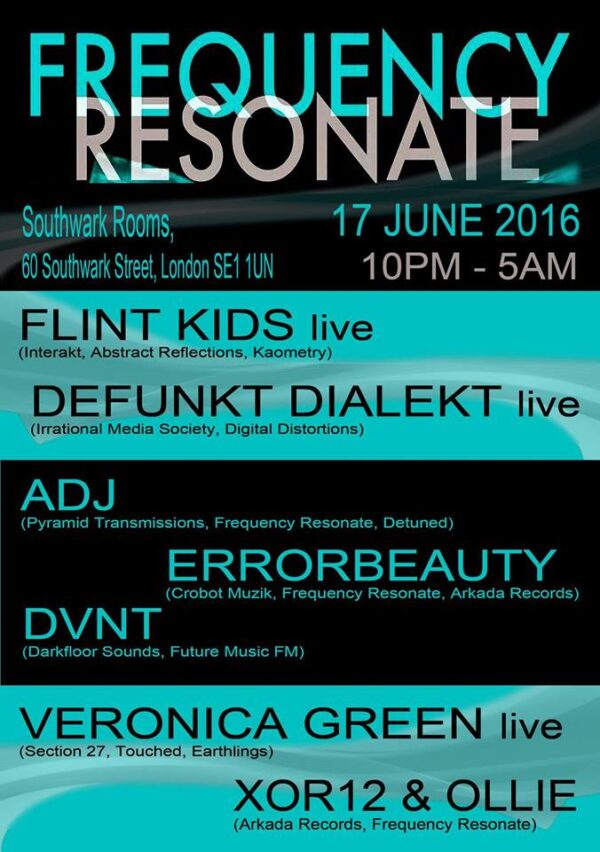 Related