Archives: Split Horizon
December 04, 2012
Split Horizon's live PA recorded at our Darkfloor Live event, September 7th, 2012 at London's The Miller.
November 30, 2012
This is the final recording from Void Tactical Media's Split HorizonEuropean tour.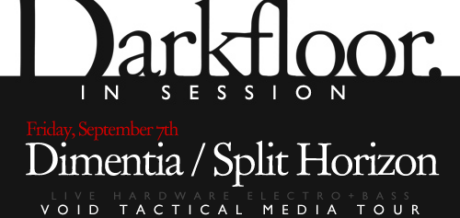 August 29, 2012
Right then, Darkfloor Live #4 is imminent. On Friday September 7th, from Oakland, California we present two hardware flexing sound technicians in the form of Dimentia and Split Horizon.