recent listening.
So a lot of people seem to be interested in what other people listen to, and more importantly what they like. Typically this is summed up from a DJs point-of-view, with charts. And on Darkfloor there are indeed charts, currently from myself and the mad Russian, Vadz (on that subject I am slightly behind with a selection for March, and we're halfway through April already, coming soon kids).
For this post I want to highlight some of the music I've been listening to a lot recently in the past few weeks. Still coming under the Darkfloor umbrella, but less focused on dancefloor/radio tracks.
The Sight Below – It All Falls Apart
With that in mind the first release I'd like to pimp up is The Sight Below, and his recent LP, It All Falls Apart, which is out now on Ghostly International. The Sight Below is one Rafael Anton Irisarri, and he's somewhat of a reclusive Seattle based artist. I discovered him quite by accident about 2 years ago. I'd found the Ghostly International compilation Ghostly Swim and was trawling through Ghostly back catalogue late one night and happened across the EP: No Place for Us, which was and still is a free download. From there I got hooked and the rest as they say…
What we've got on this release is 7 deep ambient tracks, feeling both warm and yet still stripped down and at times cold, minimal and isolated. Deep within you can hear lightly padded drumwork that makes for a very soothing, relaxing and rewarding listen. Being a bit of Joy Division fan it was a nice surprise to discover the track New Dawn Fades, which is a beautiful cover version. Ethereal vocal work, and far off dreamlike guitar strumming. It is really is a stunningly alluring piece.
Alva Noto – For 2
More of a back catalogue compilation of unreleased bits than a new album, For 2 by Alva Noto is a very accessible listen, compared to some of his other work, like Transform. Like Rafael's work above, this is an ambient, field recording, musique concrete style of sound. Mixing in bird song, abstract electronica glitch and drone, beeps and delay. It's not going to be to everyone's taste and is to some an annoying listen of seemingly random strange sounds (I'm not really selling it am I), to me it is a well crafted and programmed collection of electronic sound at it's rawest without being offensive, offending or difficult to listen to. It feels clinical and precise, something Carsten Nicolai aka Alva Noto is famed for. The track argonaut (for heiner müller) has a touch of Clint Mansell about it with the floating cello and almost starlike keys.
Gil Scott-Heron – I'm New Here
Fittingly titled as despite hearing the Scott-Heron name banded about for years, he's always eluded me until I decided to take some time to check him out. And I was suitably rewarded. With somewhat of a legacy behind him I'm New Here is at the moment my favourite from that which I've heard. I've had a few friends hit me back with their preferred fave album from his 40 year back catalogue. Which in itself is both a testament to his ability as a poet and musician and a slap to me for taking so long to check him out. Highlight track has to be Me and the Devil.
Alix Perez – 1984
Wow, blown away this stripped down, bass rich, rolling, emotive 170 bpm molten gold. The flow on this album, Alix's debut LP 1984 is nothing short of amazing. I'm pretty new to this sound, having stopped following what was happening in drum & bass sometime back in 2004, occasionally hearing this that or the other over the years. Last Autumn I came across the Club Autonomic podcast series, headed up by dBridge, aka Darren White, who those who remember will know was a member of the underground anthemic Bad Company UK / DEIBC. That much maligned term liquid funk has evolved, and the results are great. Something heavy, clever, and for both the heads and the 'floors. Highlights include the opener, 1984, and Forsaken.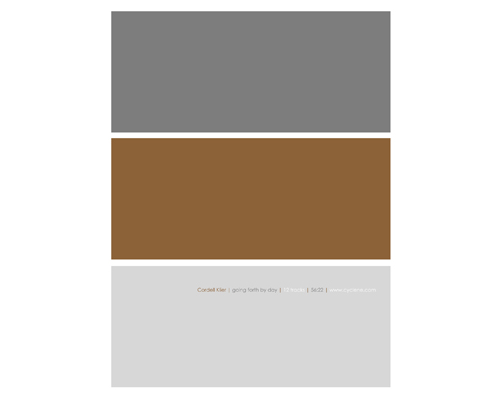 Cordell Klier – Going Forth by Day
Quite possibly Klier's Going Forth By Day is thing I've listened to most in the past 3 weeks. Followed a recommendation by Enough Records owner, Filipe 'ps' Cruz, and just mesmerised by the almost pure electronic serenade contained within. As if being that captivated by a release wasn't enough, Cordell released this (and as indeed his quite large back catalogue is) for free. Released on the Cyclene label in full fat 320 MP3.
Related