Mantis Radio 100, live in London with Kronos Device, Blackmass Plastics, Paul Blackford, Stormfield, TIOA
Mantis Radio
Broadcasting live – 18:00 (GMT)
So, the milestone has finally arrived. Tonight, live from London's SE1 postcode we celebrate the centennial Mantis Radio show with a mammoth broadcast session.
Celebrating the milestone of reaching 100 shows, we're having a live evening of darkfloor sound with a specially extended radio broadcast
Comprised of not one but five guests each showcasing their sound, Mantis 100 is both a celebration and a thank you to the artists and listeners over our 5 and counting years of broadcast.
We're kicking off tonight from 6pm broadcasting live and direct from open minded, south east London venue; The Miller. This event is free admission.
_
Kronos Device / Bass Junkie vs The Dexorcist
Blackmass Plastics
Paul Blackford
Stormfield
The Inventors of Aircraft
DVNT
I've great pleasure in welcoming Kronos Device as our headline guests for this special evening.
In 2001 Bass Junkie and The Dexorcist began delivering their industrial bass machine with aggressive kickdrums, robotic vocoders and heavyweight bass.
A special rare performance from this duo.
Joining them will be four refresher sessions from guests who have graced the show over the years.
Phil Tomsett's beautiful ambient sound as The Inventors of Aircraft; Paul Blackford's unique take on UK bass and electro; the bass heavy breakstep legend that is Blackmass Plastics; and a very special session from Combat Recordings owner Stormfield, who was our first guest way back in 2007.
If you can't get to the venue, we're broadcasting the event worldwide through our regular station Future Music and on our Livestream channel. Check out our live broadcast area for all the links you'll need.
SET TIMES
18:00 LAICA
20:00 THE INVENTORS OF AIRCRAFT
20:30 PAUL BLACKFORD
21:00 DVNT
22:00 KRONOS DEVICE
23:00 BLACKMASS PLASTICS
23:30 STORMFIELD
00:00 URSAMAL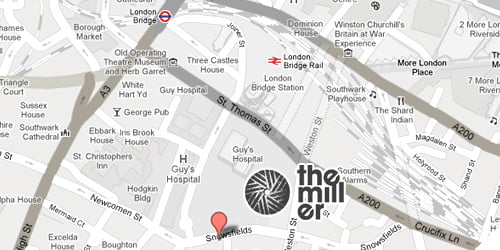 The Miller 96 Snowsfields Road London Bridge London SE1 3SS
Hope to see you there.
Related