the Darkfloor Daily – 24.09.2013
Samuel Kerridge has his début album A Fallen Empire forthcoming on Regis' Downwards label on October 30th. It follows 2 EPs and a track on the much anticipated 20 Years of Downwards compilation and an EP last year on Frozen Border. Having heard Kerridge both as a DJ and performing a liveset he's quickly becoming a favourite with his experimental, often intense vision of techno.
Belgium's TOKEN Records have shared previews of their next release – Shifting States. Ctrls presents no messing, heads down, lights off, metallic lock groove style techno that comes with 2 versions of track Displacer by Sleeparchive. Released October 7th on vinyl and digital formats.
Via the excellent Perfumed Garden archive blog comes this 2003 recording of Venetian Snares in session for John Peel and it includes his remix of Skelechairs – which is a fucking classic.
Streaming only is the 2008 performance by Stakka and Skynet at Bloc Weekend.
I've been invited to DJ at the upcoming (and frankly huge) P/C/B event on November 1st at London's Corsica Studios. I'll be in room 1 early on supporting Truss, Perc, Ancient Methods, Svreca, AnD.
Just check that lineup across the 3 rooms.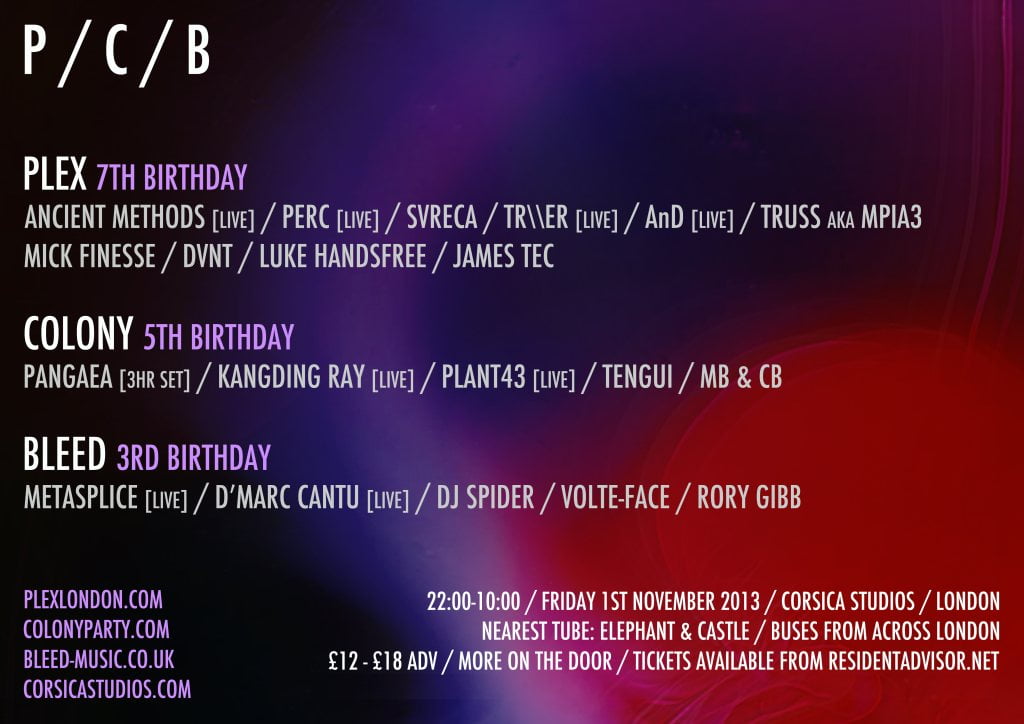 Grime fans – on BBC Radio 1Xtra for the next 5 days is The Story of Wiley – yea Wearing My Rolex and Heatwave are awful formulaic pop to our particular tastes, yet Wiley's had some phenomenal work over his career both as a sharp lyrist and producer with his eskibeat and devil mixes. He is, for all intensive purposes, a legend of the scene that continues to morph.
Having announced their winter tour as Karenn – Blawan and Pariah have decided to share the WAVs from their first untitled first EP together – available to download from Blawan's label SheWorks, where you'll also find tour dates.
If you'd like to write for Darkfloor – reviews, news, previews, articles – we are looking for contributors to our site, get in touch if you're interested.
Related