Mantis Radio 144 + Diasiva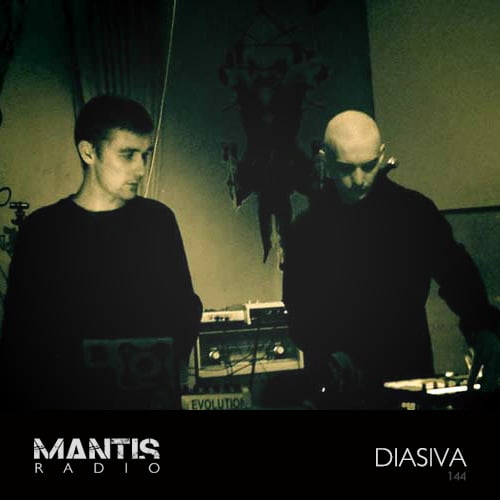 DVNT
Need For Mirrors – Pelican [V Recordings]
Synkro – Fading Lights [Apollo]
ASC – The Depths [Nonplus]
Dom + Roland – Unofficial Jah [Metalheadz]
Obsidian Kingdom – Cinnamon Balls [Obsidian Kingdom]
Akkord – 3dOS [Houndstooth]
Survex – Stap [Reaktivate]
Zaquoir – Whales [SVS Recordings]
Graze – Scrap [New Kanada]
Nguzunguzu – Break In [Fade To Mind]
Robert Hood – Eleven [M-Plant]
Mr Jones – BAR (Bas Mooy remix 2) [The Public Stand]
These Hidden Hands – When Told (Atom™ remix) [Hidden Hundred]
Villain – Tincture [Singularity]
Create Her – Animus
Black Revisit – Rien [dub]
Adam Kelly – Point Of Arrival [dub]
Structural Form – N.A.S.A. [Armatura]
Logos – Wut It Do (feat. Mumdance) [Keysound]
DIASIVA
live at Burn the Machine 2013
#144
On the show this week we present the intense electronics onslaught that is Diasiva.
IN SESSION
The collective efforts of Mads Lindgren (Monolog) and Simon Hayes (Swarm Intelligence) – Diasiva combines the duos love for obscene, high-octane sound and ten-tonne sub.
whether it's supersonically smashing up clubs at blistering-teenie-raver-killing 190bpm, or leaking slowpoison on the dancefloor with their own obnoxious version of what 140bpm music can be
Their session was recorded live at Berlin festival Burn The Machine a few weeks ago – we bring you the exclusive broadcast of the phenomenal set.
–
Missed a show? Catch up with the extensive archives.