Mantis Radio 138 + Sleeper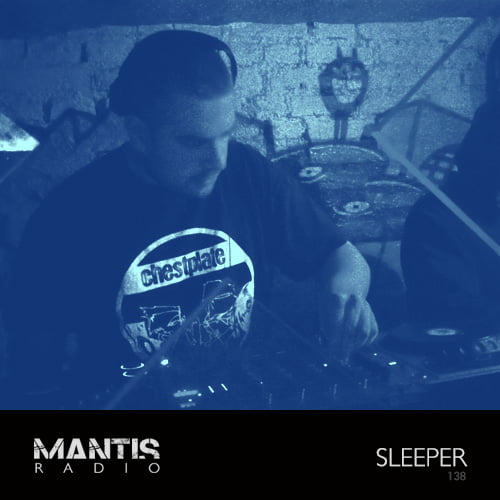 DVNT
Ka – Peace Akhi [brownsvilleka]
Current Value – Vessel [Subsistenz]
Ministry – Enjoy The Quiet [AFM Records]
Skullflower – Red Crystal Serpent [Cold Spring Records]
Bombardier – Buzzsaw [EcoSCi]
Lorn – On The Ice [Ninja Tune]
Rain – Carion [dub]
Adam Marshall – Heavy Metals [New Kanada]
H8R – CRS 6.2 [Curse]
Servent – Fragmental [Downstream Records]
Vin Sol ft Matrixxman – Real Fresh [Soo Wavey]
Oliver Deutschmann – Braineater [Caduceus Records]
Clouds – Complete Control [Soma Records]
Drumcell – Disturbance (Tommy Four Seven remix) [CLR]
Noiz – Puls [Yellow Machines]
Hoth System – Disengage (Mslwte Deconstruction) [Noctambular]
Ipman – Persistent Dread [Osiris Music]
Texture – THE RESISTANCE [Black Lantern Music]
dualit – Triton [Earwiggle]
SLEEPER
Eigenes Rezept – Pena
Planetary Assault Systems – Rip The Cut
Planetary Assault Systems – Turn
Planetary Assault Systems – Function 4 (Shifted remix)
Bjorn Torwellen – Shapeshifter (Urbano remix)
Rraph – R10 (Advanced Human remix)
Shifted – Spire 
Bjorn Torwellen & Peter Shmidt – Queens
Oscar Mulero – Rotula
Audio Injection – Condition (Tex-Rec remix)
Flug – 13D (Pfirter remix)
Planetary Assault Systems – Sucktion
DVNT
Rain – Folic Acid [dub]
Volor Flex & Encode – Unbone [Dark Clover]
Blackleg – Reality (Kial remix) [Sub Pressure]
Strago + Snooks – Kuru [Niteshade Inc.]
Dettmann – Corebox (James Ruskin Blueprint Mix) [MDR]
Jeff Mills – Where Light Ends (Q'hey Second Mission Mix) [U/M/A/A Inc.]
Physical Therapy – I Did (J. Tijn remix) [Fifth Wall]
#138
On the show this week – the heavyweight bass and thuds of Sleeper with an exclusive guest session.
IN SESSION
Since 2011, Sleeper has been creating some of the freshest takes on dark dancefloor mechanics. A prolific artist, his origins began in dubstep evoling into something all together more technoid in shape. Ever present the space early dubstep tracks had with cavernous kicks and that persistent feeling of dread.
Signed to arguably some of the finest dubstep labels proper operating today – Osiris Music, home to Kryptic Minds and DJ Distance's Chestplate – his tracks are championed pretty much weekly on Youngsta's Rinse FM takeovers as well as to be heard in countless clubs the world over.
Sleeper's music encapsulates what many love about dubstep's traditional sound, placing a key emphasis on sub frequencies, minimal track composition and intricately constructed soundscapes and textures.
The 2012, Chestplate release Scanners caught the ear of many and cemented Sleeper as a producer to watch.

His newest EP dropped just last week on Osiris Music. Axis Shift / Solarized Formation is a collaborative two tracker with label bosses Kryptic Minds and is another fine example of pitch black bass rasps and technoid drive.
–
Missed a show? Catch up with the extensive archives.