Hadji - Inspiration EP (ARMAb024)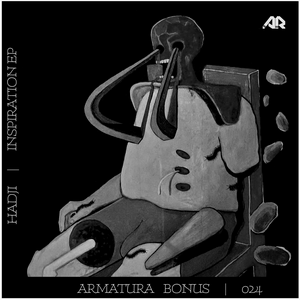 Hadji / Inspiration EP / Armatura Bonus 024
This 5 track release comes with everything that we like and present at Armatura Rec, diverse sounds of Techno.
Coming from Croatia's Hadji, and strictly analogue made, this ep offers serious melodic deep vibes and modern
crunch sound, aswell as pure old school bangers. Beautiful music for body and soul that will make you think and
move. Enjoy pure Inspiration for our 24th digital release!
1. Hadji – Nunder Ground (04:35)
2. Hadji – Krah (05:29)
3. Hadji – Krvavi Predmenstrualni Ciklus (07:12)
4. Hadji – Struja Tepe Dedu (06:08 )
5. Hadji – Nocna Setnja Obalom (07:23)
Previews / Buy
Hi-Q Previews
Shop
Feedbacks
MICHAEL SCHWARZ
"I love the 'Nunder Ground'... Full Support!"
A.BROTHERS
"Will give number 5 a try."
SPEED PROGRESS
"Nocna Setnja Obalom is awesome."
DRUMCOMPLEX
"Nocna Setnja Obalom is the one for me!"
TONY SILVER
"Krvavi Predmenstrualni Ciklus" is my favourite."
LUIS RUIZ
"Track 5 is nice, analog mentality."
BOJAN VUKMIROVIC
"Again a quality drop from armatura, 4th track for me."
Previews / Buy
Hi-Q Previews
Shop
User(s) browsing this thread: 1 Guest(s)